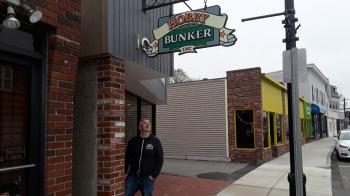 April 14th News
April 14, 2022
Hobby Bunker Covert Intelligence
Greetings! I just did 2 shows the last 2 weeks (Wings and Wheels and Havoc). Sadly the turnout for Havoc was pretty low. There were some decent games being played though. I have Easter weekend off from shows so I am gearing up for a wargame tonight and my sons basketball tourney Saturday. Then I will be off to the New Jersey Show and Gettysburg.
After a year in the works we just got our second sign put up (see above). Now maybe we can have a grand opening soon. The shop is a little slow this week so we were able to get some things shifted in the warehouse to prep for the incoming Paragon Scenics figure shipment. They started the manufacturing process last Fall and the congestion and freight issues you see on the news is quite real. Delay after delay. The goods reached the port of New York and we will see the goods in a week or 2.
This weeks arrivals include...... A nice restock of wargaming figures and accessories from Northstar in the UK is on the shelves. We also got a box of Engineer Basevich through creative methods. After about 2 years we got some good old fashioned cardboard storage boxes back in for your Magic, Pokemon and sports cards. What is on its way? King and Country, Team Miniatures, Expeditionary Force and Mars. These products should all be here early next week.
Anyways that is the quick news. See below for more product information and news.
SHOW SCHEDULE
April 23rd - New Jersey Toy Soldier Show - we will be attending (Saturday)
44 Market St. Saddle Brook, NJ at the VFW Post 9AM-3PM
May 1st - Toy Soldier show in Gettysburg - we will be attending
May 12-15th Huzzah - Portland, ME. My Helper Joe Denoncour will be covering the show for us.
May 13-14th MFCA show in Trevose, PA - We will be attending.
June 4th Northern Virginia Toy Soldier Show - Saturday 9AM-3PM
Annandale, VA - I will be attending.
Our Store location.....
103 Albion Street Wakefield, MA 01880
Store Hours:
Monday/Tuesday/Wednesday 12-6PM, Thur. 12-8PM, Friday 10AM-7PM, Saturday 10-6PM and Sunday 12-5PM. Other times by appointment. Mail order will operate as normal. If these times do not work call 781 321-8855 to schedule an appointment.
A quick tribute. Our long time friend Linda Karch passed away recently. She had been the bartender at the Hyatt Hotel in Schaumberg, IL. Every year she would serve all of us at the Chicago Toy Soldier Show. We became friends over the years and she was such a great person and will be sorely missed. She paid Joe and I a visit last September. Cheers in heaven Linda!

Did you say MARS???

Well after many weeks of fighting our friend Sergey has been able to get product out through Poland. It will be here early next week! We will update the website when it arrives!
We recently got a Conte Viking Ship from a collection. It was made in 2005 and comes fully painted in 1/32 scale.

One available.....

New Stone Walls from Formtech!

Good for 1/32 and 1/30 Scale.

link:
---