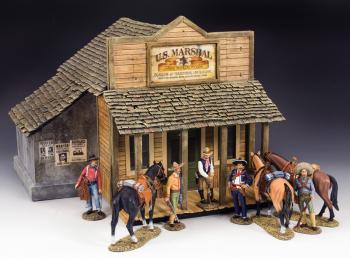 November 7th News!~
November 7, 2023
Hobby Bunker Covert Intelligence
November Updates.
It is mid-week here and as usually the temperature in the Boston area just seems to swing by 20 degrees every other day so I can't tell what season it is! But we all know what is coming, the Christmas Season! Don't wait and get your goodies now!
We have a bunch of shipments arriving this week, including a big gaming shipment coming from Northstar and one from Warlord Games. Last week we got a big restock from Victrix Ltd along with several new sets and some Games Workshop. Also arriving this week are shipments from our game and hobby distributors plus King and Country. Next week I will be heading down to Freeport, NY for the Long Island Historical Miniatures Show.
Collectors Showcase has just announced a Vietnam PBR Boat in 1/30 Scale for the Holidays! LINK: PBR
Here are some quick links to some popular sellers. I just added more King and Country, W.Britains and other stuff from collections.
King and Country Retired - LINK: K&C
W.Britains Retired LINK: RETIRED
Conte Collectibles LINK: Conte

Thomas Gunn Collections LINK: GUNN
We have a few pre-orders below as well as some new product information.
Please see below for the latest product info and store news.
SHOWS/EVENTS
Shatterpoint Saturday November 11th - Noon-3PM
Battletech - Demo day - Saturday November 11th at 3PM
MAGIC Prerelease - Thursday November 16th at 6:30PM
Crisis Protocal -Saturday November 18th - Starts 2PM
Long Island Historical Miniatures Show
November 17 and 18
Friday 6PM-9PM, Saturday 9AM-3PM
Freeport Rec Center, 130 Merrick Rd Freeport, NY
December 2nd - Virginia Toy Soldier Show
9AM-3PM
VFD - 7128Columbia Pike Road Annandale, VA
West Coast Toy Soldier Show
As of right now I have yet to find an affordable venue. I am looking at March 3 or 10th, 2024. I am about to book a place - stay tuned for more details soon!
Our Store location.....
103 Albion Street Wakefield, MA 01880
Store Hours:
Monday/Tuesday/Wednesday 12-6PM, Thur. 12-8PM, Friday 10AM-7PM, Saturday 10-6PM and Sunday 12-5PM. Other times by appointment. Mail order will operate as normal. If these times do not work call 781 321-8855 to schedule an appointment.
Alternative parking
26 Albion St - rear This is big lot - 'the Daily Item"
And
21 Albion St, this is a lot behind Boardwalk Real Estate and is a vacant bank lot
You will find updates on www.hobbybunker.com
or questions at matt@hobbybunker.com
Last week we received a pile of Gundam kits!

We also got some cool 1/35 scale and 1/16 scale armour kits from Das Werks, Andy's Hobby HQ and more!

Warhammer 40K

NEW SPACE MARINES finally arrived.

And on Tuesday we received a restock with lots of much needed paint!
WAR PARK

1/30 Scale Vehicles and Toy Soldiers

We are taking orders for the all new Item Number: AX027

Camouflage Sd.Kfz.234/2 Puma Armored Vehicle

LINK: AX027

WAR PARK

1/30 Scale Vehicles and Toy Soldiers

We are taking orders for the all new

Item Number: AX030

German Railway Covered G10 Wagon

LINK: AX030
| | | |
| --- | --- | --- |
| Some of Saturdays Bolt Action gaming action! | | Some of Saturdays Bolt Action gaming action! |
Some of Saturdays Shatterpoint gaming action!

Some of Saturdays Test of Honor gaming action!

We have a restock of Test Of Honor and 28mm plastic Samurai coming in from Fireforge this week.
Thomas Gunn Miniatures November releases just announced.

LINK: GUNN

Including The Iberian with Red Shield--single famous movie Roman General figure!

New versions of the British Matilda II Tank.

The Queen of the Desert!

4 versions available!

Plus a new "grey" version of the universal 'Krupp" truck.
LIVE NUDES!

Yup...Gunn is at it again..several new "ladies" will be releases. Lots of new poses too.
3D Prints by Hobby Bunker

Norman Castle ruins coming soon!

LINK: 3D Prints

The John Jenkins Designs



Sd.Kfz. 251/7 Pionierpanzerwagen

is now in stock!

LINK: 251
JOHN JENKINS DESIGNS



THE SECOND WORLD WAR,

GERMAN ARMOUR,

German Sturmgeschütz III Ausf. G (Sd.Kfz. 142/1)

Initial Production

Sturmgeschütze Abteilung Grossdeutschland

Third Battle of Kharkov, February-March 1943.

SKU: GA-22

Now taking PRE-ORDERS

A brief History....While the Third Battle of Kharkov will forever be associated with the

SS-Panzerkorps (composed of the 1. SS-Panzergrenadier Division Liebstandarte SS Adolf Hitler, 2. SS-Panzergrenadier Division Das Reich, and 3. SS-Panzergrenadier Division Totenkopf), the critical contributions of Grossdeutschland

are often overlooked. However, without Grossdeutschland,

Manstein's brilliant victory would not have been possible. Furthermore, the assault guns of Sturmgeschütze Abteilung Grossdeutschland

(StuG.Abt. GD), commanded by Knight's Cross holder Hauptmann Peter Frantz, played a crucial role in the division's success.
Here are the new November releases by King and Country .......

First from the Dickens series.....

Among the many other characters created by Sir Arthur Conan Doyle and who appear in several of the Sherlock Holmes' stories, two are particularly memorable… Mr. Mycroft Holmes and Miss Irene Adler

We also have a new set of 3 Wise Men and their camels. Some more additions to the modern Streets of Hong Kong and the The Tiger Tanks will finally be released around Thanksgiving.

LINK: K&C

The Rio Grande, the winding river that separates the United States on one side to the north and Mexico on the other to the south. For a long time, including most of the 19th Century, this entire area and the river that runs through it was rife with cattle rustling, all types of banditry and general lawlessness of every kind and shape.

Many of the cowboys and vaqueros who moved across the Rio Grande on a regular basis were easily familiar with both sides of the law and who administered it in each place.
---