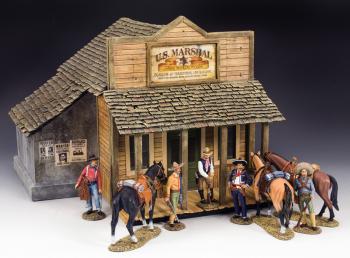 Early November News!
November 3, 2023
Hobby Bunker Covert Intelligence
November Updates.
Welcome to November. I think I ate a pounds worth of candy last night!
We have been filing the store up with goodies and gearing up for the Holidays. Last week we got about 100 Gundam kits and a pile of Armor kits, cars and supplies.
We just restocked the Games Workshop paint and got some general restocks on 40K.
Below we have an announcement from Thomas Gunn and tomorrow the new King and Country will be announced. Tomorrow I will be picking up a small K&C retired collection. I have also added some more 21st Century and Forces of Valor to the website.
King and Country Retired - LINK: K&C
W.Britains Retired LINK: RETIRED
Conte Collectibles LINK: Conte

Thomas Gunn Collections LINK: GUNN
We have a few pre-orders below as well as some new product information.
Please see below for the latest product info and store news.
SHOWS/EVENTS
Shatterpoint Saturday November 4th - Noon-3PM
Shatterpoint Saturday November 11th - Noon-3PM
Bolt Action Day -Saturday November 4th - Starts 10AM
TEST OF Honour - Demo day - Saturday November 4th
NETSS WOBURN TOY SOLDIER SHOW
at present I do not have a show scheduled. The hotel has really jacked up their price and that location is no longer viable. I will seek out a new more affordable show or combine it with another.
Long Island Historical Miniatures Show
November 17 and 18
Friday 6PM-9PM, Saturday 9AM-3PM
Freeport Rec Center, 130 Merrick Rd Freeport, NY
December 2nd - Virginia Toy Soldier Show
9AM-3PM
VFD - 7128Columbia Pike Road Annandale, VA
West Coast Toy Soldier Show
As of right now I have yet to find an affordable venue. I am looking at March 3 or 10th, 2024. I already had to say no to about a dozen places due to high costs. If you know a place under $6000 with 5000-6000 square feet let me know! LA to Irvine area.
Our Store location.....
103 Albion Street Wakefield, MA 01880
Store Hours:
Monday/Tuesday/Wednesday 12-6PM, Thur. 12-8PM, Friday 10AM-7PM, Saturday 10-6PM and Sunday 12-5PM. Other times by appointment. Mail order will operate as normal. If these times do not work call 781 321-8855 to schedule an appointment.
Alternative parking
26 Albion St - rear This is big lot - 'the Daily Item"
And
21 Albion St, this is a lot behind Boardwalk Real Estate and is a vacant bank lot
You will find updates on www.hobbybunker.com
or questions at matt@hobbybunker.com
Last week we received a pile of Gundam kits!

We also got some cool 1/35 scale and 1/16 scale armour kits from Das Werks, Andy's Hobby HQ and more!

Warhammer 40K

NEW SPACE MARINES finally arrived.

And on Tuesday we received a restock with lots of much needed paint!
WAR PARK

1/30 Scale Vehicles and Toy Soldiers

We are taking orders for the all new Item Number: AX027

Camouflage Sd.Kfz.234/2 Puma Armored Vehicle

LINK: AX027

WAR PARK

1/30 Scale Vehicles and Toy Soldiers

We are taking orders for the all new

Item Number: AX030

German Railway Covered G10 Wagon

LINK: AX030
Thomas Gunn Miniatures November releases just announced.

LINK: GUNN

Including The Iberian with Red Shield--single famous movie Roman General figure!

New versions of the British Matilda II Tank.

The Queen of the Desert!

4 versions available!

Plus a new "grey" version of the universal 'Krupp" truck.
LIVE NUDES!

Yup...Gunn is at it again..several new "ladies" will be releases. Lots of new poses too.
3D Prints by Hobby Bunker

Norman Castle ruins coming soon!

LINK: 3D Prints

The John Jenkins Designs



Sd.Kfz. 251/7 Pionierpanzerwagen

is now in stock!

LINK: 251
JOHN JENKINS DESIGNS



THE SECOND WORLD WAR,

GERMAN ARMOUR,

German Sturmgeschütz III Ausf. G (Sd.Kfz. 142/1)

Initial Production

Sturmgeschütze Abteilung Grossdeutschland

Third Battle of Kharkov, February-March 1943.

SKU: GA-22

Now taking PRE-ORDERS

A brief History....While the Third Battle of Kharkov will forever be associated with the

SS-Panzerkorps (composed of the 1. SS-Panzergrenadier Division Liebstandarte SS Adolf Hitler, 2. SS-Panzergrenadier Division Das Reich, and 3. SS-Panzergrenadier Division Totenkopf), the critical contributions of Grossdeutschland

are often overlooked. However, without Grossdeutschland,

Manstein's brilliant victory would not have been possible. Furthermore, the assault guns of Sturmgeschütze Abteilung Grossdeutschland

(StuG.Abt. GD), commanded by Knight's Cross holder Hauptmann Peter Frantz, played a crucial role in the division's success.
New Plastics just arrived!

BMC Toys

Timmee Toy

and Classic Toy Soldiers run under the BMC Brand!



LINK: BMC

100's of bags now ready to ship!

American Civil War, World War II -Germans, Italians, Americans and Japanese! Plus vehicles and accessories

LINK: BMC
Beebecon

Albert was busy running a Battletech game at our local libraries kids comic con.

Our friend Lucas was in house as well. He was running a paint and take for kids. We got a pile of minis and paints from Reaper Miniatures for the event.
---