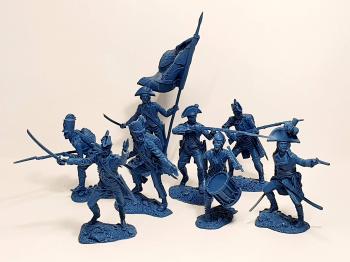 New 1/32 Plastic figures
September 9, 2021
So many great sets of 1/32 Plastic this month.
New French Grenadiers and Line Infantry from Expeditionary Force...(more British Far East expected in Oct). New AWI Cavalry and Robin Hood figures from LOD Enterprises. Publius is sending us new Vikings and Early French Naps and some Single figures. Plastic Platoon is sending us some new American Revolution sets. Plus the have a few more they leaked to me. Mars has 3 WWII sets coming (not listed). Waterloo 1815 should have their second set of US Cavalry. Wow lots of stuff.
We have our restock order of Paragon Scenics in as well. Probably by December 1st we will have the US Cavalry Sets 1 and 2 in the original colors as well as Gray and Metallic Blue. We will also have Mexican Set 1 and 2 in 3 colors including white. Apache Set 1 and Souix Indians will be in a red brown along with the original buckskin and cream colors.
https://www.hobbybunker.com/products/future
---