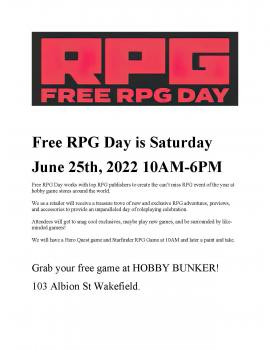 Mid-June News and Updates....
June 22, 2022
Hobby Bunker Covert Intelligence
Summer is here and so are we. We say "Summah" here in the Boston area. If you need anything we are here to serve you. We are still open 7 days a week and shipping Monday-Friday. On Saturday I will be selling at the London Toy Soldier show and here in the store we will be hosting FREE RPG Day. Games Workshop's Horus Heresy came and went. I think we have one copy left. But reinforcements have arrived in the form of Star Wars Legion and Crisis Protocol. We have all this months releases in from Asmodee one of our distributors.
We have just entered into the future of hobbies. We now have a couple of 3-D printers going. We are running some 15mm tanks and a few fantasy figures as samples. I hope to start producing some terrain and 1/32 Scale plastic vehicles. One of them is running right on the front counter area.
Last week we had that surprise from Chintoy (see blow), they sent us 2 new sets of plastic figures. We have been working on other hard to get Eastern European plastics as well. I will see what we can get shipped after I return from my trip.
Thursday Gaming....stop by and join the big group of Magic Players. We also usually have some table top games going. This week the Heroclix group will be starting up again around 6PM.
The picture above is a reminder to take a break! These
Federal Infantry Standing at Rest
are taking it easy... they are made by W.Britains and are now in stock.
Search 31350 on
our website.
Please see below for the latest product info and store news.
STORE EVENTS
June 25th 10AM to 6PM Free RPG Day
Stop by and grab a free game book!
SAVE THE DATE
We are booking the next "West Coaster Toy Soldier Show" in Anaheim
For February 26, 2022
I am working on an NETSS show for October. It will be at the Crowne Plaza in Woburn again.
Our Store location.....
103 Albion Street Wakefield, MA 01880
Store Hours:
Monday/Tuesday/Wednesday 12-6PM, Thur. 12-8PM, Friday 10AM-7PM, Saturday 10-6PM and Sunday 12-5PM. Other times by appointment. Mail order will operate as normal. If these times do not work call 781 321-8855 to schedule an appointment.
FREE RPG DAY!

This Saturday June 25th from 10AM-6PM

Come down on Saturday and get a Free Role Playing book!

We will have a free Pathfinder RPG game at 10AM and a Paint and Take afterwards.

We will also be have a sale on all games during the event!
New from MARS in the Ukraine

1/32 Scale Us Heavy Weapons at D-Day.

We should have these by early July. You can go ahead and order now. We will be getting a restock as well.

I expect the first batch to sell fast.

New from MARS in the Ukraine

1/72 Scale

New German Panzerjagers, Soviet Border Guards and British Commonwealth Soldiers. We should have these by early July. You can go ahead and order now. We will be getting a restock as well.
WOW...a nice surprise from war torn Europe. We just got 2 new sets from ChinToys!



Soldiers from the Holy Roman Empire

LINK:

French Warriors to battle them and add to your Rena

2 Great new sets from Chintoy...

I was told there was a surprise in the mail a few weeks ago and these was very cool to open. I had no idea what to expect!
---