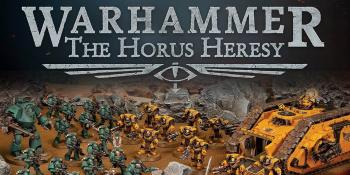 June 15th News....
June 15, 2022
Hobby Bunker Covert Intelligence
Summer is almost officially here and so is the heat. We have got everything settled from all our shows and are getting the store on track to start running some events. I just booked Historicon for July. I am off to the London Show next week. Hopefully the "rail strikes" do not cause issues with the show on June 25th. All the train services are threatening with a strike. We have Horus Heresy in....details below. the Free RPG day is right around the corner. on 6/25 stop by and get a free role playing game or a related item while supplies last.
We had an overseas surprise from Chintoy (see blow), they sent us 2 new sets of plastic figures. Some restocks we have coming this week are TSSD, LOD, King and Country and Hobby Bunker Foam. We got a restock of Vallejo paint today and a load of games yesterday with more on the way.
Thursday Gaming....We have had a great turn out of Magic players lately and we are still playing A Song of Ice and Fire too. We always have a few empty tables if anyone wants to come down and roll some dice. Saturday is also a good day to play - always free tables. Sundays are tighter with our 40K crowd- call or email to reserve a table.
The picture above is a reminder of the cold weather. Parts of the country have just experienced a heat wave. The picture is all King and Country figures and JG Miniatures terrain. We carry both brands.
Please see below for the latest product info and store news.
STORE EVENTS
June 25th 10AM to 6PM Free RPG Day
Stop by and grab a free game book!
SAVE THE DATE
We are booking the next "West Coaster Toy Soldier Show" in Anaheim
For February 26, 2022
Our Store location.....
103 Albion Street Wakefield, MA 01880
Store Hours:
Monday/Tuesday/Wednesday 12-6PM, Thur. 12-8PM, Friday 10AM-7PM, Saturday 10-6PM and Sunday 12-5PM. Other times by appointment. Mail order will operate as normal. If these times do not work call 781 321-8855 to schedule an appointment.
Holy Horus Heresy!
The new Games Workshop Horus Heresy
is here and it goes on sale Saturday at 10AM here in the shop!
This is a complete game for two players in a box that's packed with incredible new miniatures. If you don't feel like sharing, it's a fantastic way to start or expand a new Warhammer: The Horus Heresy army! The miniatures are all plastic and much easier to build, making the game more accessible than ever before. Kicking off the set are a whopping 40 (forty!) Space Marine Legionaries in Mark VI Power Armour. The Tactical Squads that they make up are the core of any army for Warhammer: The Horus Heresy and are even more important in the new edition than ever before. Leading the Tactical Legionaries into battle are two Praetors. Plus more. We also have the Rulebooks by themselves and other add-ons.
Grab yours this weekend.
WOW...a nice surprise from war torn Europe. We just got 2 new sets from ChinToys!



Soldiers from the Holy Roman Empire

LINK:

French Warriors to battle them and add to your Rena

2 Great new sets from Chintoy...

I was told there was a surprise in the mail a few weeks ago and these was very cool to open. I had no idea what to expect!
We just got the new M18 Hellcat in by Tamiya. It is 1/35 scale and is supposed to be a beautiful kit.

Stop by and check it out and browse hundreds of aircraft, armor, car, sci-fi and Gundam models.

We are looking at another big collection at the moment.
Our Expeditionary Force order is in. Hopefully this new set and a restock gets here faster than the last shipment.

They will have mounted sets of "chainmail" warriors out next.

W.Britains

They are cranking figures out lately! Here is some new future releases asnd others that just arrived.
One of King & Country's most popular releases of recent times has been the revitalization of the 'Ancient Egypt' series with the addition of the slightly more modern figures depicting the discovery of the Tomb of the boy pharaoh, TUTANKHAMUN by the Egyptologist, Howard Carter and his sponsor Lord Carnarvon in 1922. As this year marks the centenary of that discovery and the ongoing interest in Tutankhamun and his ancient world K&C is pleased to present an unusual and unique display piece that was inspired by the story of the tomb's discovery and perhaps a dash of the golden age of Hollywood.
Browse the new series here:
Egypt
---