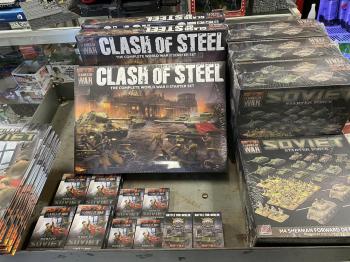 Mid-February News!
February 20, 2023
Hobby Bunker Covert Intelligence
Hello.
We hope you all enjoyed the Holiday Day. We were quit busy in the shop today.
Just a few quick notes as I prepare to head out the California this week. I run the show in Garden Grove. More details below. A couple weeks ago there was sad news that the Chicago Toy Soldier Show got canceled. The good news is the show will continue and we are taking it on! More news to follow next week.
Below we are still taking pre-orders for the new King and Country Tiger Tank and the 3 versions of the John Jenkins Hanomags.
We have recently got in a pile of Flames of War and terrain by Gale Force 9. The Vallejo Xpress paints were well received and we have more on the way.
Above is diorama of the Gempei War by John Jenkins Designs. LINK: Gempei WAR
Please see below for the latest product info and store news.
SHOWS/EVENTS
On March 4th we will be hosting our second "A Song of Ice and Fire Tournament"
You can sign up on ASOIF Stats.
The West Coast Toy Soldier Show!
Sunday Feb. 26th, 2023 9AM-3PM
The Delta Hotel by Marriott 12021 Harbor Blvd. Anaheim Garden Grove, CA 92840
Room trading on Feb 25, 26 (maybe the 24th)
The hotel is now sold out on Friday. They have some rooms available for Saturday night.
We will be in the Catalina Ballroom this year. The one to the right when you walk in the lobby.
New Jersey Toy Soldier Show and Sale
Sunday, March 19th, 2023 9AM-3PM
Wayne P.A.L. One P.A.L. Drive Wayne, NJ
NETSS Toy Soldier, Toy, Model Kit, Military Book Show and Sale
Come join us Sunday the 16th of April for the North East Toy Soldier Society's Toy Soldier Show, at Crowne Plaza, 15 Middlesex Canal Park, Woburn, Massachusetts, USA.
9:00AM to 3PM. Admission $8; 2 for 15.00. children under age 15 free
Our Store location.....
103 Albion Street Wakefield, MA 01880
Store Hours:
Monday/Tuesday/Wednesday 12-6PM, Thur. 12-8PM, Friday 10AM-7PM, Saturday 10-6PM and Sunday 12-5PM. Other times by appointment. Mail order will operate as normal. If these times do not work call 781 321-8855 to schedule an appointment.
You will find updates on www.hobbybunker.com matt@hobbybunker.com
New

Thomas Gunn Miniatures



shipping this week!

New German soldiers and German train figures that go with the Figarti Locomotive. Plus some Allied figures. These come in 2 versions. Australian and D-Day British uniforms.

LINK: GUNN

Thomas Gunn Miniatures

Below is four additional figures for the WW2 German Heer patrol. These are slightly different from last years release.

Further down is a a mix of the new releases and last years releases of the Waffen SS.

LINK: GUNN
Vallejo Xpress paints just arrived!
New Star Wars Legion just arrived.
Flames of War recently arrived!
CHINTOY

Restock just arrived!

Several old sets along with the Gangsters, Police in Blue and Saracens!

LINK: CHINTOY

A quick view of my booth at the Annandale, VA show last Saturday. I had just started packing up as the show was coming to a close.
Last day to pre-order these JJD Hanomags is 2/28/23!
John Jenkins Designs

3 Version of the German Hanomag 251 to pre-order! Order now for about 10% Savings. We are taking orders from now until February 28th only! Don't hesitate to order or you might miss out!

a Standard 251/1 with 2 Machine Guns

a Pioneer version

Sd.Kfz. 251/7 mittlerer Pionierpanzerwagen

and a 251/9 Sd.Kfz. 251/9 MITTLERER SCHUTZENPANZERWAGEN (7.5cm KANONE).

LINK: 251

The John Jenkins Designs

German Sd.Kfz. 251 mittlerer Schützenpanzerwagen was an armored and fully tracked infantry fighting vehicle designed specifically to provide infantry the capability to match pace with German Panzers during armored operations. No other nation employed a similar vehicle during the war. It was purpose built to truly serve as a vehicle the Panzergrenadiers actually fought from. Its armored body could withstand small arms fire, protecting the mounted troops while they employed the two onboard machineguns along with the soldier's own personal small arms. The SPW was also fully tracked, meaning each of its tracks could be operated independently from the other track, just like a tank. This capability provided the SPW with excellent cross country mobility and allowed the Panzergrenadiers to accompany tanks even in the muddiest conditions. Lastly, the excellent capabilities of the SPW led to numerous specialized variants including versions mounting 7.5cm cannons and versions carrying small bridge sections for the Pioneer(specialized heavy assault troops with engineering skills).
King and Country
The February announcement is this gorgeous new tiger Tank. It will be available in April.
Pre-order this limited edition now!
LINK: TIGER
---