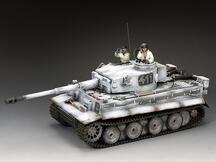 Early February News
February 3, 2023
Hobby Bunker Covert Intelligence
TGIF!
It is a cold one here in Wakefield tonight. We just got some cool new stuff and announcements we wanted to share with you. Have a great weekend.
Above is the new Strickly Limited Tiger Tank from King and Country. This is their 20th version of the Tiger I tank!
Please see below for the latest product info and store news.
SHOWS/EVENTS
The East Coast Figure Artists - Saturday February 11th at the Hobby Bunker-
The meeting will run from 2:00 to 5:00pm.
Artists, sculptors, model builders and miniaturists of every subject are encouraged to bring: works in progress, planned projects, suggestions for tools and techniques, books and reference materials that may be helpful to others. Show your latest unbuilt kit or internet finds. Beginner through advanced level enthusiasts are welcome to be part of our friendly group. Usually a dozen or more people.
On March 4th we will be hosting our second "A Song of Ice and Fire Tournament"
You can sign up on ASOIF Stats.

Virginia Toy Soldier Show and Sale
Saturday Feb. 18th
VFD 7128 Columbia Pike
Annandale, VA 9AM-3PM
The West Coast Toy Soldier Show!
Sunday Feb. 26th, 2023 9AM-3PM
The Delta Hotel by Marriott 12021 Harbor Blvd. Anaheim Garden Grove, CA 92840
Room trading on Feb 25, 26 (maybe the 24th)
The hotel is now sold out on Friday. They have some rooms available for Saturday night.
We will be in the Catalina Ballroom this year. The one to the right when you walk in the lobby.
New Jersey Toy Soldier Show and Sale
Sunday, March 19th, 2023 9AM-3PM
Wayne P.A.L. One P.A.L. Drive Wayne, NJ
Our Store location.....
103 Albion Street Wakefield, MA 01880
Store Hours:
Monday/Tuesday/Wednesday 12-6PM, Thur. 12-8PM, Friday 10AM-7PM, Saturday 10-6PM and Sunday 12-5PM. Other times by appointment. Mail order will operate as normal. If these times do not work call 781 321-8855 to schedule an appointment.
You will find updates on www.hobbybunker.com matt@hobbybunker.com
New 28mm Sci-fi in from Wargames Atlantic just arrived!
The Latest Magic the Gathering Set is now in stock!
New Games and Restocks just arrived!
Part of our massive Games Workshop restock that just arrived!
The 3-D Printing is back in full swing
.
Before the Holidays we had some printer issues and did not have the time to tune them up. We are back up and running with 3 machines and hope to have some product going up on the site soon.
Below we have som prints shown with 60mm John Jenkins Dark Age figures and 54mm Britains Deetail from the 1980's. These will be great universal pieces that can be used for multiple periods and scales. We will be able to do 15mm, 28mm and 54mm.
John Jenkins Designs

3 Version of the German Hanomag 251 to pre-order! Order now for about 10% Savings. We are taking orders from now until February 28th only! Don't hesitate to order or you might miss out!

a Standard 251/1 with 2 Machine Guns

a Pioneer version

Sd.Kfz. 251/7 mittlerer Pionierpanzerwagen

and a 251/9 Sd.Kfz. 251/9 MITTLERER SCHUTZENPANZERWAGEN (7.5cm KANONE).

LINK: 251

The John Jenkins Designs

German Sd.Kfz. 251 mittlerer Schützenpanzerwagen was an armored and fully tracked infantry fighting vehicle designed specifically to provide infantry the capability to match pace with German Panzers during armored operations. No other nation employed a similar vehicle during the war. It was purpose built to truly serve as a vehicle the Panzergrenadiers actually fought from. Its armored body could withstand small arms fire, protecting the mounted troops while they employed the two onboard machineguns along with the soldier's own personal small arms. The SPW was also fully tracked, meaning each of its tracks could be operated independently from the other track, just like a tank. This capability provided the SPW with excellent cross country mobility and allowed the Panzergrenadiers to accompany tanks even in the muddiest conditions. Lastly, the excellent capabilities of the SPW led to numerous specialized variants including versions mounting 7.5cm cannons and versions carrying small bridge sections for the Pioneer(specialized heavy assault troops with engineering skills).
King and Country
The February announcement is this gorgeous new tiger Tank. It will be available in April.
Pre-order this limited edition now!
LINK: TIGER
New War Park just announced!
War Park -1/30 Scale
Pak43 88mm Anti-tank Gun and 4 Man Winter Crew
They are on the way. Order now!
LINK: AX019
War Park -1/30 Scale
We were able to get the last few Wittman Tiger Tanks. They are on the way. Order now!
LINK: AX018
---