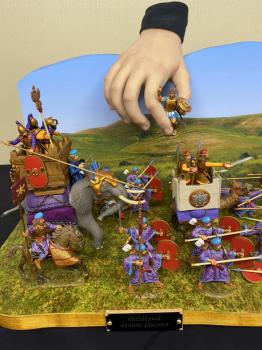 May News #2
May 10, 2023
Hobby Bunker Covert Intelligence
Hey all,
I am looking forward to a weekend off this week. Then after that, I am back on the road! I will head to Maine, then Texas and Virginia, and then the show season will be done! I think 'NH" Joe will accompany me to the London Toy Soldier show at the end of June. Let us know if you will be attending. Next month marks our 25th anniversary. I am planning some events for June. Stay tuned.
We have started to sort the 700 model kits. Mostly 1/72 and 1/48 aircraft, but also some ships, including about 40 1/700 scale waterline kits. We got about 100 out on the shelves....but we ran out of room. If you want to make an appointment to dig through them, let us know. We had someone in yesterday "digging and picking."
We are running the Chicago Toy Soldier Show this September! It will now be called the "Chicagoland Toy Soldier Show!" We hope to see you there. We will be sending out more information soon. I added the hotel link below if you want to attend and book a room.
Above is an incredible diorama made by Steve Pyle. This is made up of mostly Expeditionary Force and LOD soldiers. We carry both brands. Some of the pieces have been scratch built. Note the fake hand! Steve has been a longtime customer.
Please see below for the latest product info and store news.
SHOWS/EVENTS
/////We are attending the following shows/////
HUZZAH Gaming Con
The Maine Historic Wargamers Association will host 3 days of gaming, a variety of vendors, workshops and a flea market from 19 to 21 May 2023
LINK: HUZZAH
Note: I will be there on Friday and Saturday...Not committed for Saturday night yet!
TEXAS TOY SOLDIER SHOW
May 27th 10AM-5PM and May 28th 10AM-3PM
The Menger Hotel 204 Alamo Plaza- San Antonio, TX PH(210) 757-3463
Virginia Toy Soldier SHOW
Annandale VFD 7128 Columbia Pike Annandale, VA 22003
Saturday June 3rd, 9AM-3PM
Chicagoland Toy Soldier Show
Sunday September 24, 2023 10AM-3PM
Plus room trading the days leading up to the show!
Chicago Marriott Schaumburg
50 N Martingale Road, Schaumburg, Illinois, USA, 60173
New show, New location run by us!
Hotel room link: Schaumburg Marriott
Dealer info: Chicagoland dealer contract
Free RPG Day is June 24th, 2023!
Attendees will get to snag cool exclusives, maybe play new games, and be surrounded by like-minded gamers!
Our Store location.....
103 Albion Street Wakefield, MA 01880
Store Hours:
Monday/Tuesday/Wednesday 12-6PM, Thur. 12-8PM, Friday 10AM-7PM, Saturday 10-6PM and Sunday 12-5PM. Other times by appointment. Mail order will operate as normal. If these times do not work call 781 321-8855 to schedule an appointment.
You will find updates on www.hobbybunker.com
or questions at matt@hobbybunker.com
| | | |
| --- | --- | --- |
| We had a blast at the MFCA show last weekend. Here is a cool Warhammer Army that was on display at the show last weekend. It is a pretty unique show that attracts artists from all over the world. There are super high end models, figures and dioramas from "master class" painters on display. Awards are given to best. | | This is a diorama made by one of our customers Steve Pyle. He loves to convert Expeditionary Force figures and make unique dioramas. He had a few on display at the show and won an Award. |
We finally got a restock of Vallejo Xpress paints back in. We also just got a restock of Monument paints in.

The Monument paints have blown my mind. So many people in the shop are buying them!

New 28mm Rubicon Vietnam and a restock just arrived!

LINK: RUBICON
Check out the new
John Jenkins Designs

releases like this new Iceni Chariot here: JJD
John Jenkins Designs

is adding to the battle of Cowpens this month with this model of Colonel William Washington, Third Continental Dragoons, American Continental and Militia Dragoons, The Battle of Cowpens, January 17th, 1781, The American War of Independence, 1775–1783!

LINK: JJD

John Jenkins Designs is also addingto the new artillery series with this 12-pdr. Howitzer, 5th U.S. Artillery, The Union Army, The First Battle of Bull Run, 1861, ACW, 1861-1865

LINK: JJD
New from

Expeditionary Force!

54mm plastic figures.

These just arrived!

Order here:

Link: EXFORCE

54 CND 06-G Naval Gun with Royal Navy Gunners (War of 1812)

54 AMR 09 Pirates at New Orleans

54 AMR 09-G Naval Gun with Pirate Gunners
After a long hiatus the Collectors Showcase has just announced some great new releases...we expect them around the end of April.
They've created three different variants of the Vietnam era Cobra Helicopter. Each variant has just 50 limited edition sets available. Check out the add on set of the Mule with driver and ammo and the re-loading crew! Sets are limited please order promptly to secure your inventory.
The Clint Eastwood Wild West statues have been by far the most popular 1/6 scale statues they've produced. This brand new Outlaw Josey Wales statue is by far the finest of all.
The Korean War is not a subject that is made very often. TCS has delivered with 7 new and animated fighting GI's!
LINK: TCS
_King and Country_
1/30 scale
The new King and the Queen have arrived! The Queen in purple is sold out until June already at K&C! We have a couple left.
LINK: Royalty
King and Country
new May releases just announced.
May 10th - The first
New Falkland Wars Armour (releasing the end of May)! Yeomen of the Guard (Mid-May), Denmark's Royal Life Guards(Mid-May), Romans and more! New World War Germans arriving early next week. These shown below are repaints of previously released models.
Link: K&C
Warhammer 40K is played on Sundays.

Magic the Gathering every Thursday

"A Song of Ice and Fire" every Thursday.

Stop by and roll some dice any time during business hours.

Free RPG Day is June 24th, 2023!

Attendees will get to snag cool exclusives, maybe play new games, and be surrounded by like-minded gamers!
---