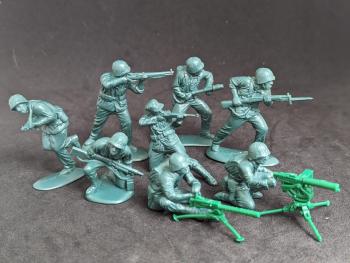 May News #4
May 24, 2023
Hobby Bunker Covert Intelligence
Hey all,
We are heading into Memorial Day weekend. We give thanks and honor all who paid the ultimate sacrifice and gave their lives to defend our freedom. I am off to San Antonio tomorrow. There is a lot of history there and usually a big presence of current armed forces personnel in the area. The show is Saturday and Sunday. I look forward to walking the river walk and the Alamo Chapel. Next month marks our 25th anniversary. I am planning some events for June. Stay tuned.
We have added Battletech, Crisis Protocal Bolt Action and Magic The Gathering events to our Facebook page and put some signs up in the Store. Stop by, email or check out our events. https://www.facebook.com/hobbybunker2/events
We are running the Chicago Toy Soldier Show this September! It will now be called the "Chicagoland Toy Soldier Show!" We hope to see you there. We will be sending out more information soon. I added the hotel link below if you want to attend and book a room.
Above is an incredible Piper of The 74th (Highland) Regiment of Foot by John Jenkins Designs PIPER
Please see below for the latest product info and store news.
SHOWS/EVENTS
/////We are attending the following shows/////
TEXAS TOY SOLDIER SHOW
May 27th 10AM-5PM and May 28th 10AM-3PM
The Menger Hotel 204 Alamo Plaza- San Antonio, TX PH(210) 757-3463
Virginia Toy Soldier SHOW
Annandale VFD 7128 Columbia Pike Annandale, VA 22003
Saturday June 3rd, 9AM-3PM
IN STORE BATTLETECH GAME DEMO Saturday June 3rd at 3-6PM
Run by Albert and James
BOLT ACTION Saturday June 3rd 11AM -??
We are planning on pick up games all day. We plan on a Pegasus Bridge set up!
Hosted by Peter Villani
Chicagoland Toy Soldier Show
Sunday September 24, 2023 10AM-3PM
Plus room trading the days leading up to the show!
Chicago Marriott Schaumburg
50 N Martingale Road, Schaumburg, Illinois, USA, 60173
New show, New location run by us!
Hotel room link: Schaumburg Marriott
Dealer info: Chicagoland dealer contract
Free RPG Day is June 24th, 2023!
Attendees will get to snag cool exclusives, maybe play new games, and be surrounded by like-minded gamers!
Our Store location.....
103 Albion Street Wakefield, MA 01880
Store Hours:
Monday/Tuesday/Wednesday 12-6PM, Thur. 12-8PM, Friday 10AM-7PM, Saturday 10-6PM and Sunday 12-5PM. Other times by appointment. Mail order will operate as normal. If these times do not work call 781 321-8855 to schedule an appointment.
You will find updates on www.hobbybunker.com
or questions at matt@hobbybunker.com
| | | |
| --- | --- | --- |
| Here is a recent Picture of the Dungeons and Dragons section. | | A view from the other end of the gaming section. |
| | | |
| --- | --- | --- |
| A view down to the front door. | | Flames of War restocks just arrived! |
THOMAS GUNN MINIATURES

New May/June releases just announced.

These golfers are quite unique!

There are also eight new German HEER figures that makes up 2 versions of a Mortar Team on the move.

LINK: GUNN

The long awaited Roman Court figures are ready to ship finally. They are on the way from the UK. There are also more female figures

LINK: GUNN
Check out the new
John Jenkins Designs
June releases
John Jenkins Designs

Is packed with new releases including this new figure "Gillie"from the battle of Cowpens

LINK: JJD

John Jenkins Designs has announced this Viking Shield Maiden Kneeling with Drawn Bow among many others.

LINK: JJD

at the top is new Norman Crossbowmen.
New from War Park

1/30 Scale Russian Assault Engineers!

These are pretty cool. The Fire effect looks great!

New War Park....

Check out this 1/30 scale flampanzer!

LINK: Panzer III
Mars made in the Ukraine



Has announced some new sets

New Modern Ukranian Defenders in 1/32 scale and 1/72 Scale

LINK: MARS

Mars made in the Ukraine

Mars has announced some new US Marines in 1/32 Scale and a new set of Soviet Guards.

LINK: MARS
Expeditionary Force

New Saracen Archers coming soon. We expect them in early June. We will also be getting a restock. The last shipment flew out the door!
Warhammer 40K is played on Sundays.

Magic the Gathering every Thursday

"A Song of Ice and Fire" every Thursday.

Stop by and roll some dice any time during business hours.

Free RPG Day is June 24th, 2023!

Attendees will get to snag cool exclusives, maybe play new games, and be surrounded by like-minded gamers!
---