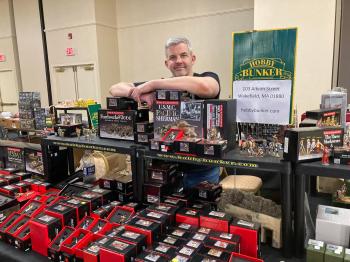 June early news....
June 2, 2022
Summer is just around the corner. I am heading off to Virginia to do my last Spring show. We have had a busy week in the shop and we just re-did all the stuff in our glass supplies. Well not the soldiers, just the Magic, Pokemon, Collectibles and more......nice and neat and fresh now! I will spruce up the toy soldiers cases next week. Shows aren't done for me yet though. I decided to go to the London Show on June 25th. YOLO! I have some unfinished business in England that has been waiting since 2019.
The above picture is from the MFCA show. A customer wanted to take it to show his friend in Germany who is a dealer. His friend knew me. I guess I have shown my "ugly mug" in the magazines and internet a few times over the years so I am a small time celebrity in a small world.
These week we received a Pegasus Hobbies and Caesar Miniatures restock. The Viking ships and the May shipment from John Jenkins. The new Magic Cards, retsocks of paints and supplies and lots more. Stop by and shop!
The picture above is the upcoming fighting GI series from Thomas Gunn Miniatures. I thought this would be a great picture for Memorial day. There is a link below for more detils.
Please see below for the latest product info and store news.
SHOW SCHEDULE
June 4th Northern Virginia Toy Soldier Show - Saturday 9AM-3PM
Annandale, VA - I will be attending.
Magic the Gathering Commader Legends: Baldur's Gate Prerelease
June 4th at 1PM
June 9th at 6:30PM
The cards are in!
June 25th 10AM to 6PM Free RPG Day
Stop by and grab a free game book!
Our Store location.....
103 Albion Street Wakefield, MA 01880
Store Hours:
Monday/Tuesday/Wednesday 12-6PM, Thur. 12-8PM, Friday 10AM-7PM, Saturday 10-6PM and Sunday 12-5PM. Other times by appointment. Mail order will operate as normal. If these times do not work call 781 321-8855 to schedule an appointment.
We have some new updated stickers (3 types) arriving soon. We will be handing them out for free will supplies last.

You can request some when you place an online order under the "remarks" section.

Expeditionary Force

The first set in the "Chainmail" Series has been announced. We hop to have them this month.
"Brigadier General Strong Vincent"Strong Vincent (1837-1863) was originally a lawyer who became famous as a senior U.S. Army officer who fought and died at the pivotal Battle of Gettysburg in 1863.

At the beginning of the Civil war in 1861, he joined the Union Army as a First Lieutenant. Within months he had been promoted to Lieut. Colonel of the 83rd Pennsylvania Infantry and led them through several battles.

The final four 'Foot Dragoons' of Napoleon's 'Dragons a' Pied' regiment have been announced so they can join the previously released figures to form a total of 17 dismounted dragoons plus 1 mounted Officer.
| | | | | | |
| --- | --- | --- | --- | --- | --- |
| | The Viet Cong Heavy Machine Gun. Last month they released the North Vietnamese Army version of the DShK 12.7mm Heavy Machine Gun in the anti aircraft role. This version is for infantry support. | | | New additions to the The Streets of Old Hong Kong series includes two figures and a new Pawn Shop. | |
Thomas Gunn Miniatures

Order now! These are going fast!!!!

New Korean War GI's in action.

Thomas Gunn Miniatures

The Roman Slave Market. Yes it can be a touchy subject and the figures are PG-13 Rated. But here they are!
Thomas Gunn has decided to revisit the French Foreign Legion range!

Below are some stunning German Cavalry. I expect these to go quickly.

MEDUSA and her victim...order now they won't last!
The May releases have arrived. All the Viking Ships have been shipped.

The new June releases from John Jenkins Designs were announced earlier this week. Above is the mounted officer to lead the 14th Brooklyn Troops!

More cavalry! Sillidar Cavalry (spear raised to the sky) from The Maratha Empire, Wellington in Indian Campaign, The Battle of Assaye, 1803
---