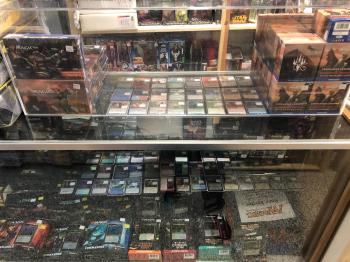 Toy Soldiers, Magic, Games oh my!
June 9, 2022
Hobby Bunker Covert Intelligence
We are almost half through June all ready and Summer is almost officially here. We are putting all our stock back after the show season has ended. For the Summer I have not committed yet but you may see us at Historicon and Boston Comic con. But before I do these and since I don't like to sit still I am to London in 2 weeks. I am going to do the London Toy Soldier Show and take in some sights around southern England. I need a break and to get refreshed.
Albert and the gang here just reorganized all our glass cases. Below is what the Magic Cards case looks like. We also just added lots of singles from the Baldur's Gate set. Our Pokemon section is fully stocked and spruced up. We also just added some vintage Transformers to our cases. We also just got our box of goodies in for Free RPG Day. What is this? Well you come to the shop on June 25th and leave with a free game or gaming accessory. We will also have some store deals going on that day.
Thursday Gaming....We have had a great turn out of Magic players lately and we are still playing A Song of Ice and Fire too. We always have a few empty tables if anyone wants to come down and roll some dice. Saturday is also a good day to play - always free tables. Sundays are tighter with our 40K crowd- call or email to reserve a table.
Please see below for the latest product info and store news.
STORE EVENTS
Magic the Gathering Baldur's Gate Prerelease
June 9th at 6:30PM
We also just revamped all our cards - see the picture below.
June 25th 10AM to 6PM Free RPG Day
Stop by and grab a free game book!
Our Store location.....
103 Albion Street Wakefield, MA 01880
Store Hours:
Monday/Tuesday/Wednesday 12-6PM, Thur. 12-8PM, Friday 10AM-7PM, Saturday 10-6PM and Sunday 12-5PM. Other times by appointment. Mail order will operate as normal. If these times do not work call 781 321-8855 to schedule an appointment.
We have been adding lost of odds and ends and large scale figures to ebay this week.

One of them is the "The Duke of Wellington," an 80mm Soldier made for the Armory of St. James.
Now that we have some Summer help we have been adding lots of goodies and lots to this section. We have also been adding loose Forces of Valor and 21st Century vehicles too. Check those 2 brands. Some things are selling within hours of us listing.

Pictured is French King Jean II by Alymer.
Our Expeditionary Force order is in. Hopefully this new set and a restock gets here faster than the last shipment.

W.Britains

They are cranking figures out lately! Here is some new ones we just added.
Thomas Gunn Miniatures

The new shipment has arrived. Go ahead and order now. The GI's and Salve figures are selling fast!

Above: New Korean War GI's in action.

Thomas Gunn Miniatures

The Roman Slave Market. Yes it can be a touchy subject and the figures are PG-13 Rated. But here they are!
| | | | | | |
| --- | --- | --- | --- | --- | --- |
| | Thomas Gunn has decided to revisit the French Foreign Legion range! | | | MEDUSA and her victim...order now they won't last! | |
June Releases from

King and Country are on the way. Go ahead place your orders...
---