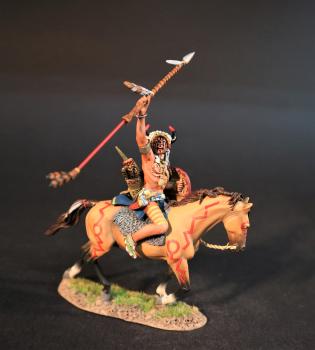 July 16th updates
July 16, 2022
Hobby Bunker Covert Intelligence
Happy Saturday. I am just doing a quick follow up from our Wednesday email with some new products and information.
Metal toy soldiers update on Team Miniatures. They announced 6 beautiful new mounted Indians due in May. They then said they were restructuring there factory and they would be available in July. Now sadly they have postponed them to September. This is sad news. Not sure what the issue is. There seems to be a slow down with some of the other makers as well. Hopefully this trend will not continue. The new King and Country July releases and our restock is finally shipping this week. We also have the John Jenkins July releases on the way. Pictured above is an upcoming releases from John Jenkins. Click on the link below to view this and more.
The New Magic the Gathering "Double Masters" is in stock and we have a restock of many popular games arriving this week. The New Games Workshop contrast paint is in stock and selling fast! We also have sorted and priced 100's of vintage 1990's Magic Singles! Stop by and browse.
Thursday Gaming....stop by and join the big group of Magic Players. We also usually have some table top games going. We had 30 unique players this last Thursday!!
Please see below for the latest product info and store news.
SHOWS/EVENTS
HISTORICON - we will be attending Historicon July 21-24.
We will be packing up lost of Historical stuff so the shelves will be thin next week if you stop by. We will not be bringing that much as far as metal and plastic soldiers go. We will be mostly bringing gaming products. If you want something brought down please let us know asap.
We will Not be attending the NJ Toy Soldier Show on 7/31.
SAVE THE DATE
We are booking the next "West Coaster Toy Soldier Show" in Anaheim
For February 26, 2022
I am working on an NETSS show for October. It will be at the Crowne Plaza in Woburn again.
Our Store location.....
103 Albion Street Wakefield, MA 01880
Store Hours:
Monday/Tuesday/Wednesday 12-6PM, Thur. 12-8PM, Friday 10AM-7PM, Saturday 10-6PM and Sunday 12-5PM. Other times by appointment. Mail order will operate as normal. If these times do not work call 781 321-8855 to schedule an appointment.
We just got a nice selection of 1/72 Aircraft and other models in. We usually get new kits a supplies in every Thursday and Friday.

We also just got some Tamiya Spray Primers, Thinners and Vallejo paint.

We just got the latest Pokemon cards in along with a pile of other games.

We just order from a new place "Old School Dice." they offer some pretty cool resin and metal dice and accessories.
July brings a small batch of great releases!
The new Battle of the Bulge sets are selling well...if you order "the deal" you get the repainted plastic Sherman as a bonus.
The new Bob Hope and Playboy bunnies are due later in the month. They are crowd pleaser's for sure!
| | | | | | |
| --- | --- | --- | --- | --- | --- |
| | Consider highlighting products or services, sales or promotions, personal bios, and more. Use images that complement your message, and link your images to supporting resources. | | | Consider highlighting products or services, sales or promotions, personal bios, and more. Use images that complement your message, and link your images to supporting resources. | |
| | | | | | |
| --- | --- | --- | --- | --- | --- |
| | New Thomas Gunn Miniatures announced for July. French Indo-China Command, Germanic Archers, WWII Matilda Tanks Slave Market and zulus. | | | | |
New from MARS in the Ukraine

1/72 Scale

New German Panzerjagers, Soviet Border Guards and British Commonwealth Soldiers. These and a restock have arrived.
Expeditionary Force Our order is still on its way. It looks like it finally reached the West Coast. Waiting a month is just crazy and disappointing. In the mean time more figures from the Alamo and Napoleonic Wars have nee announced.

W.Britains

We just added a collection of retired Napoleonics to out Britains inventory!
The JJD July releases are on the way in.

Including this new version of thee Sopwith Camel B7270, No.209 Sqn. Bertangles, April 1918, Knights of the Skies.
| | | | | | |
| --- | --- | --- | --- | --- | --- |
| | Norman Knight with red banner with gold cross (blue kite shield with gold dragon), The Norman Army, The Age of Arthur--Single Mounted Figure | | | The Prince's Lifeguard, The Jacobite Army, The Jacobite Rebellion of 1745--Single Mounted Figure | |
| | | | | | |
| --- | --- | --- | --- | --- | --- |
| | Myrmidon Warriors (TWT-16 & TWT-17), The Myrmidons, The Greeks, The Trojan War--two figures | | | | |
---