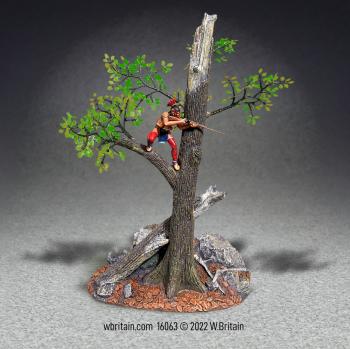 Early August News here at the Bunker
August 3, 2022
Hobby Bunker Covert Intelligence
Greetings. It has been a hot dry summer this summer so far. It seems to be a good idea and stay home and work on our hobbies. I have been doing a bit of gaming and painting as of late. Last week our main drain backed up in our little basement. We had to get a new pipe put in underground. It was a bit of a dust storm with the jack hammering but we are all cleaned up and back to normal again. Below we had added quit a few new toy soldiers due this month and some store stuff as well.
Above is a new French Band from King and Country due later this month. See below for all this months releases.
Thursday Gaming....stop by and join the big group of Magic Players. We also usually have some table top games going. We had 4 people playing A Song of Ice and Fire last week and expect a few more. We would like to see our Games Workshop "Kill Team" players make a comeback on Thursdays. Anyone interested????
Please see below for the latest product info and store news.
SHOWS/EVENTS
The Chicago Toy Soldier Show
When: Sunday, September 25, 2022, 10am to 3:30pm
With room trading and sales starting Wed. Sept. 21st
Where: Hyatt Regency Schaumburg, 1800 East Golf Road, Schaumburg, IL 60173. https://chicagotoysoldiershow.com/
Virginia Toy Soldier Show - Saturday Sept. 10th 9AM-3PM
VFD Community Center 7128 Columbia Pike Annandale, VA
SAVE THE DATE
We are booking the next "West Coaster Toy Soldier Show" in Anaheim
For February 26, 2022
I am working on an NETSS show for October. It will be at the Crowne Plaza in Woburn again. Most likely the 9th - waiting for contract.
Our Store location.....
103 Albion Street Wakefield, MA 01880
Store Hours:
Monday/Tuesday/Wednesday 12-6PM, Thur. 12-8PM, Friday 10AM-7PM, Saturday 10-6PM and Sunday 12-5PM. Other times by appointment. Mail order will operate as normal. If these times do not work call 781 321-8855 to schedule an appointment.
Hobby Bunker Annual Historical Games Day. August 27th
Hobby Bunker Annual Historical Games Day.
Saturday August 27th!
We are holding our annual event again. It will be one day this year.
Location? Here at 103 Albion Street in the Game Loft.
In the past this has mostly been historicals but we have requests for RPG's, Sci-fi and other games.
We will do 3 Sessions on Saturday (10AM, 2PM and 6PM)
We will have a minimal fee to play: $5.00
matt@hobbybunker.com or 781 321-8855 with questions or to run a game.
Let me know if you want to run a game ASAP.
At the moment we have game masters for Flames of War, Bolt Action, A Song of Ice and Fire and Black Sea games. We have a few other historical games but waiting on descriptions at the moment.
The latest

Dungeons and Dragons "alternate art" book is in. These covers are only sold through small businesses like us! We just received this and several boxes of other new games!

These guys are just hanging out in the shop waiting for a body.

If you collect 1/6 scale figures we got a pile of loose clothes, weapons, boots, etc.

We also have some loose Dragon figures and a bunch of GI Joes.
August brings another small batch of great releases!
We have some additions to the Falkland War Series. The Emperor's Own Imperial Guards' Fifes & Drums. A couple new Vietnamese girls on Vespas for your Vietnam displays and some repaints of the sailors they made in white about 10 years ago. These are in Navy Blue and are in uniform for World War II. The last series to mention is the new "Kokoda: The Long Bloody Trail" series that takes place in 1942. These Australians or Aussie 'diggers', are dressed in 'Jungle Green.'
| | |
| --- | --- |
| New World War II sailors. | |
| | | | | | |
| --- | --- | --- | --- | --- | --- |
| | | | | This is a sensitive item to some. But is in stock and part of history. The Market Platform is in stock. | |
Expeditionary Force Our order is still on its way. It looks like it finally reached the West Coast. Waiting a month is just crazy and disappointing. In the mean time more figures from the Alamo and Napoleonic Wars have nee announced.

W.Britains

We just got an email from W.Britains with new items. We will have them added soon!
Here are all the latest figures arriving this month from John Jenkins.

The Vikings above are sold as a 3 piece set or as individuals.

Scythian Female Archer -this is available in 2 different paint schemes.
| | |
| --- | --- |
| Crow Family Travois, The Crow, The Fur Trade--two Indian figures mounted on horse pulling travois & horse | Four Infantry Standing Leaning on Gun (2 hand holding left wrist, 2 hand holding left hand), Co.K Continental Morgan Guards, Frederick Co., 5th Virginia Regiment, The Army of the Shenandoah, The First Battle of Manassas, 1861, ACW, 1861-1865--four figures |
| | |
| --- | --- |
| Acamas, The Greeks, The Trojan War, The Trojan War--single figure with spear and shield | Glaucus, Troy and Her Allies, The Trojan War--single figure with spear and shield |
---