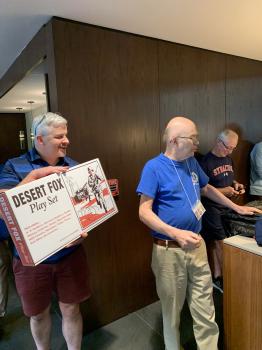 End of September Updates.
September 29, 2023
Source: End of September Updates.
Hobby Bunker Covert Intelligence
End of September Updates.
We are having a busy week here. We are trying to get back into the swing of things here at the Bunker. As many of you know I just ran the Chicagoland Show and it was great success. It was easily the largest challenge I pulled off as a businessman. Thanks to all my helpers! Joe, Joe, Chris, Steven, Dale, Woody, Verne, Rudy, Jim P., Jim R., Katy, Evan K., The Marriott, The Garfield's, The HB crew and DearthCo my design guy! 2024 Here we come! Albert, Evan and Dawn held down the fort while I was gone and we are getting back on track.
This week we received a shipment from King and Country, our 2 game dustributors, our 2 hobby distributors, games Workshop and a few others. Stop by the shop and check out the new stock.
We have a few pre-orders below as well as some new product information.
The Chicagoland Toy Soldier is a wrap!
Check out facebook for 100's of pictures!
https://www.facebook.com/ChicagoToySoldierShow/
Check out the cool video about the Chicagoland show from Collector Guys.
Please see below for the latest product info and store news.
SHOWS/EVENTS
Battletech - Saturday September 30th at 3PM
Marvel Crisis Protocol -
Saturday - September 30th, at 2PM
PATCON 2023 - IPMS Modelling Show
Sunday, October 1st, 2023
8AM-4PM Hudson Elks Lodge 959
99 Park St Hudson, MA www.ipmspatriot.org
NETSS WOBURN TOY SOLDIER SHOW
at present I do not have a show scheduled. The hotel has really jacked up their price and that location is no longer viable. I will seek out a new more affordable show or combine it with another.
October 15th - NEW Jersey Toy Soldier Show and Sale
Wayne PAL Wayne, NJ 9AM-3PM
1 PAL Drive Wayne, NJ 07470
Note: This is the only show in the area.
There is no Hackensack show - nothing got organized.
Our Store location.....
103 Albion Street Wakefield, MA 01880
Store Hours:
Monday/Tuesday/Wednesday 12-6PM, Thur. 12-8PM, Friday 10AM-7PM, Saturday 10-6PM and Sunday 12-5PM. Other times by appointment. Mail order will operate as normal. If these times do not work call 781 321-8855 to schedule an appointment.
Alternative parking
26 Albion St - rear This is big lot - 'the Daily Item"
And
21 Albion St, this is a lot behind Boardwalk Real Estate and is a vacant bank lot
You will find updates on www.hobbybunker.com
or questions at matt@hobbybunker.com
Below is an upcoming 3-D print Barn we are working on. It is shown with John Jenkins figures.
New War Park 1/30 Scale
AX019: Camoflauge Pak43 88mm Anti-tank Gun and 4 Man Summer Crew LINK: Pak43 88
AX026: Winter Sd.Kfz.234/2 Puma Armored Vehicle LINK: Puma
New September Releases

NOW IN STOCK!
New John Jenkins Releases

Here are your John Jenkins Designs September Releases!

We are also taking pre-orders until September 30 for the all new Tiger tank!

German Panzerkampfwagen "Tiger" Ausf. E (Sd.Kfz.181), Initial Production, Tiger #123, schwere Panzerabteilung 502, Second Battle of Lake Ladoga, January 1943.

LINK: GA-52
The Bead Sellers, The Rendezvous, The Mountain Men, The Fur Trade

A mountain man was an explorer who lived in the wilderness. They were instrumental in opening up the various Emigrant Trails (widened into wagon roads) allowing Americans in the east to settle the new territories of the far west by organized wagon trains traveling over roads explored and in many cases, physically improved by the mountain men and the big fur companies originally to serve the mule train based inland fur trade.

Dismounted Confederate Cavalrymen, Cavalry Division, The Army of Northern Virginia, The Battle of Brandy Station, June 9th, 1863, The American Civil War, 1861-1865

The Battle of Brandy Station, June 9th, 1863



The Battle of Brandy Station, also called the Battle of Fleetwood Hill, was the largest predominantly cavalry engagement of the American Civil War, as well as the largest ever to take place on American soil. It was fought on June 9th, 1863, around Brandy Station, Virginia at the beginning of the Gettysburg Campaign by the Union cavalry under Maj.Gen. Alfred Pleasonton against Maj. Gen. J.E.B. Stuart's Confederate cavalry.
Expeditionary Force

New artillery and Rocket battery releases!

Four new sets coming soon.

LINK: ExForce

Expeditionary Force

New artillery and Rocket battery releases!

Four new sets coming soon.

LINK: New Ex Force
Here I am winning Mike Kutnick's raffle/fundraiser!

"Desert Fox" playset box by Ron Lizorty.

Above is our booth during the week at the Chicagoland show.

Here is a few pictures from the show.
---