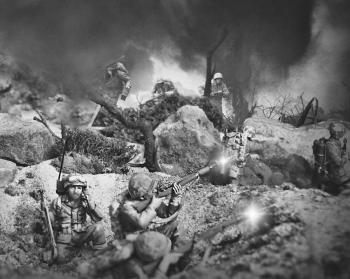 Early September News
September 1, 2022
Hobby Bunker Covert Intelligence
September is here and the kids are mostly back in school! The shop continues to be busy with a steady stream of regulars, summer tourists passing through and new comers. We just received the new Magic card set that will go on sale this weekend. The new August releases from John Jenkins and King and Country have arrived. Team Miniature have announced that the Mounted Indians will finally be here this month. Most of our partners over in Hong Kong are having major supply chain issues out of China. We have seen many delays and smaller amounts of product. This is happening with so many things we sell at the moment it has been a rough Summer getting product!
We are starting to gear up for the Chicago show. We leave in about 3 weeks. This is always a great show to buy, search and socialize at.I am trying to get some great products in for the show and also trying to grab some collections.We buy collections so if you want to sell shoot us an email.
Above is a great diorama using King and Country US Marines and set up by Alex Credidio. Most of these figures are still available and can be found here: USMC
We briefly had a Website Payment Portal Issue. We Have it back up and running now.
At some point we will briefly overhaul it again.
When we are done we will give you more options like googlepay and applepay and paying instantly with paypal.
Thursday Gaming....stop by and join the big group of Magic Players. We also usually have some table top games going. We are expecting several people for A Song of Ice and Fire tonight and lately we have had some Crisis Protocal action.
Please see below for the latest product info and store news.
SHOWS/EVENTS
MAGIC THE GATHERING: Dominaria United is the much-anticipated return to Dominaria as Magic celebrates its 30th anniversary.
Prerelease Events
Saturday, Sept. 3 at Noon, Sunday September 4th at Noon and Thursday Sept. 8th at 6:30PM.
The Chicago Toy Soldier Show
When: Sunday, September 25, 2022, 10am to 3:30pm
With room trading and sales starting Wed. Sept. 21st
Where: Hyatt Regency Schaumburg, 1800 East Golf Road, Schaumburg, IL 60173. https://chicagotoysoldiershow.com/
Virginia Toy Soldier Show - Saturday Sept. 10th 9AM-3PM
VFD Community Center 7128 Columbia Pike Annandale, VA
NETSS Toy Soldier, Toy, Model Kit, Military Book Show and Sale
Sunday October 9th, 2022
Come join us Sunday the 9th of October for the North East Toy Soldier Society's Toy Soldier Show, at Crowne Plaza, 15 Middlesex Canal Park, Woburn, Massachusetts, USA.
9:00AM to 3PM.
The West Coast Toy Soldier Show!
Sunday Feb. 26th, 2023 9AM-3PM
The Delta Hotel by Marriott 12021 Harbor Blvd. Anaheim Garden Grove, CA 92840
Room trading on Feb 25, 26 (maybe the 24th)
Our Store location.....
103 Albion Street Wakefield, MA 01880
Store Hours:
Monday/Tuesday/Wednesday 12-6PM, Thur. 12-8PM, Friday 10AM-7PM, Saturday 10-6PM and Sunday 12-5PM. Other times by appointment. Mail order will operate as normal. If these times do not work call 781 321-8855 to schedule an appointment.
You will find updates on www.hobbybunker.com matt@hobbybunker.com
W.Britains!
New Super Deetail American Civil War Artillery Sets arriving late Fall 2022. This is the first new tooling for W.Britain plastics* in almost 50 years and we are very excited! There will be versions. They will be up soon our website.
August releases from King and Country!
The captured sets from Falkland War Serie sare on the way along with the Vietnamese Vespa girls.
New September release have been announced and we will have upon the website tomomorrow!
ORDER: NEW K&C
Expeditionary Force

New announcements.We are expecting these new Dragoons and more in September. Order now!

LINK: Exforce

Expeditionary Force

More Exforce to order!

Mounted Men-At-Arms in Chainmail.

Link: Exforce
September's releases have been announced and we are taking orders!
Order here: JJD
The August releases are on the way.
Also coming in September are a variety of 18th century Horses for Carts or Wagon. There are additions for the Whiskey, Scalps and Fur trading series but they are in short supply. We will only be getting a handful now and more in December.
Here are all the latest figures arriving this month from John Jenkins.

Including new poses for the 5th Virginia Regiment, Standing and Leaning on Gun Holding Bayonet.

Order: NEW JJD

Samurai Foot Archer, The Taira Clan, The Gempei War, 1180-1185
Beothuk Warrior Archer Wearing Deerskin with Antlers, Skraelings, The Conquest of America11th-13th Century.

SKRAELING is the name the Norse Greenlanders used for the peoples they encountered in North America, and Greenland.

Powhatan Warrior Leaning on Bow, The Powhatan, The Conquest of America

The Powhatan people may refer to any of the indigenous Algonquian people that are traditionally from eastern Virginia. It is estimated that there were about 14,000-21,000 Powhatan people in eastern Virginia, when English colonists established Jamestown in 1607.
The walls of Troy are coming. Order yours now.
Deiphobus, Prince of Troy, Troy and Her Allies, The Trojan War.

In Greek Mythology, Deiphobus was a son of Priam and Hecuba. He was a prince of Troy, and the greatest of Priam's sons after Hector and paris.

Deiphobus is known to have killed four men of fame in the Trojan War.

Below is a sneak peek of the new Norman Archers for the battle of Hastings. These should be out later in 2022.

Phalangites made up the Macedonian Phalanx, Armies and Enemies of Ancient Greece and Macedonia.

The Macedonian phalanx was an infantry formation developed by Philip II and used by his son Alexander the Great to conquer the Achaemenid Empire and defeat armies of other kingdoms. Phalanxes remained dominant on battlefields throughout the Hellenistic period, until they were ultimately displaced by the Roman Legions.
Hobby Bunker Annual Historical Games Day is a wrap.
Here at 103 Albion Street in the Game Loft we had roughly 50 people show up and roll some dice. Many more walked through just to watch. We had a total of 10 games played. My son demo'd ASOIF all day on the 1st floor. Thank you to all the Game Masters and all who came to play. We had many of the regular crowd and many new faces. Everyone had a blast.
Below in order is Flames of War, Rich Piccini's American Revolution, Warlord's Black Seas run by Adam, Bob's big Bolt Action 28mm WWII game, Mark's Aztec game, and Dave's Witch hunt 1692.
We can accommodate a few cars for short term parking during the week for shoppers. Please come in the side door and check in.
We also can accommodate some cars for Thursday, Saturday and Sunday gamers.
---