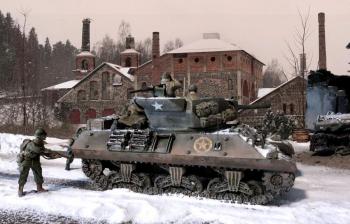 August 25th stuff to know!
August 25, 2022
Hobby Bunker Covert Intelligence
August is wrapping up and the kids are heading back to school! The shop continues to be busy with a steady stream of regulars, summer tourists passing through and new comers. We just received a surprising huge restock of Games Workshop and a pile of games and miniatures from of distributors last Friday. The new August releases from John Jenkins and King and Country have arrived. Most of our partners over in Hong Kong are having major supply chain issues out of China. We have seen many delays and smaller amounts of product. This is happening with so many things we sell at the moment it has been a rough Summer getting product!
I made it back from Florida and St. Augustine. I was able to see some of Savannah, GA on the way down and took in many sites during my trip. The Castillo de San Marco was quite impressive and it is the oldest fort in America. There is so much history in the area and I had no idea (Spanish, English, Indian, African-American). I visited the Lightner Museum which was a former hotel built by Henry Flagler and I also managed to walk by a house that MLK stayed in.
Above is a great repaint of an older King and Country M-10 by Alex Credidio. It was originally painted as a French tank. The figure is still available and is made by W.Britains. We have several figures like it in stock.
We briefly had a Website Payment Portal Issue.We Have it back up and running now.
At some point we will briefly overhaul it again.
When we are done we will give you more options like googlepay and applepay and paying instantly with paypal.
Thursday Gaming....stop by and join the big group of Magic Players. We also usually have some table top games going. We are expecting several people for A Song of Ice and Fire tonight and a few will be playing Conquest.
Please see below for the latest product info and store news.
SHOWS/EVENTS
MAGIC THE GATHERING: Dominaria United is the much-anticipated return to Dominaria as Magic celebrates its 30th anniversary.
Prerelease Events
Saturday, Sept. 3 at Noon, Sunday September 4th at Noon and Thursday Sept. 8th at 6:30PM.
The Chicago Toy Soldier Show
When: Sunday, September 25, 2022, 10am to 3:30pm
With room trading and sales starting Wed. Sept. 21st
Where: Hyatt Regency Schaumburg, 1800 East Golf Road, Schaumburg, IL 60173. https://chicagotoysoldiershow.com/
Virginia Toy Soldier Show - Saturday Sept. 10th 9AM-3PM
VFD Community Center 7128 Columbia Pike Annandale, VA
NETSS Toy Soldier, Toy, Model Kit, Military Book Show and Sale
Sunday October 9th, 2022
Come join us Sunday the 9th of October for the North East Toy Soldier Society's Toy Soldier Show, at Crowne Plaza, 15 Middlesex Canal Park, Woburn, Massachusetts, USA.
9:00AM to 3PM.
The West Coast Toy Soldier Show!
Sunday Feb. 26th, 2023 9AM-3PM
The Delta Hotel by Marriott 12021 Harbor Blvd. Anaheim Garden Grove, CA 92840
Room trading on Feb 25, 26 (maybe the 24th)
Our Store location.....
103 Albion Street Wakefield, MA 01880
Store Hours:
Monday/Tuesday/Wednesday 12-6PM, Thur. 12-8PM, Friday 10AM-7PM, Saturday 10-6PM and Sunday 12-5PM. Other times by appointment. Mail order will operate as normal. If these times do not work call 781 321-8855 to schedule an appointment.
You will find updates on www.hobbybunker.com matt@hobbybunker.com
Hobby Bunker Annual Historical Games Day. August 27th
Hobby Bunker Annual Historical Games Day.
Saturday August 27th!
8/25 update-games are filling up!
Please let us know if you are coming asap.
We are holding our annual event again. It will be one day this year.
Location? Here at 103 Albion Street in the Game Loft.
In the past this has mostly been historicals but we have requests for RPG's, Sci-fi and other games.
We will do 3 Sessions on Saturday (10AM, 2PM and 6PM)
We have some games scheduled
10AM Bolt Action - France 1944 - Bob Rioux
10AM Beer and Pretzels - American Revolution - Rich Piccini
10AM Black Seas - Adam Carriere
10AM Flames of War - Charlie
2PM Bolt Action - France 1944 - Bob Rioux
2PM Beer and Pretzels - American Revolution -Rich Piccini
2PM Flames of War - Ted Correia
2PM 1692 Witch Hunt using Gaslight Rules - Dave Soucey
2PM Raid to Satisfy Huitzilopochtli - Aztec Raiding Tlaxaclan Village
Rules: Feudal Patrol - Mark Morin
7PM ASOIF or Bolt Action - Matt Murphy
Email matt@hobbybunker.com our message us to sign up for a game.
All Game Masters are supplying all Terrain, Miniatures, etc.
These games are for Beginners or Experienced Gamers. They are meant to be fun and introduce people to new games and rules.
$5.00 to play all day.
August brings another small batch of great releases from King and Country!
The captured sets from Falkland War Seriesare on the way along with the Vietnamese Vespa girls. Below is a sneak peek of some new sailors probably coming out in September.
ORDER: NEW K&C
Also don't forget about the Vietnam back drops by the Last Post below. View Here: LAST POST
Expeditionary Force Our order is still on its way. It looks like it finally reached the West Coast. Waiting a month is just crazy and disappointing. In the mean time more figures from the Alamo and Napoleonic Wars have nee announced.

LINK: ExForce

W.Britains

We just added a bunch of new figure. LINK: NEW!
September's releases have been announced and we are taking orders!
Order here: JJD
The August releases are on the way.
Also coming in September are a variety of 18th century Horses for Carts or Wagon. There are additions for the Whiskey, Scalps and Fur trading series but they are in short supply. We will only be getting a handful now and more in December.
Here are all the latest figures arriving this month from John Jenkins.

Including new poses for the 5th Virginia Regiment, Standing and Leaning on Gun Holding Bayonet.

Order: NEW JJD

Samurai Foot Archer, The Taira Clan, The Gempei War, 1180-1185
---