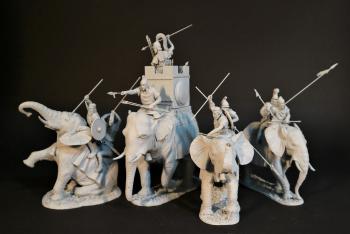 August News #3
August 18, 2023
Hobby Bunker Covert Intelligence
Welcome to August!
I just wanted to check in a let you know what is happening here at the Bunker! Gamesday is shaping up for 8/26. We have several players on board for our "A Song of Ice and Fire" Tourney this Saturday. Most of the grunt work for running the Chicagoland show is done. Soon I can start packing and getting my merchandise ready for the trip which starts about a month from now.
Today we just picked up about a hundred 1/35 scale armor and figure kits along with some more aircraft. We will get them sorted over the weekend. Tomorrow morning I am heading up to NH to pick up a collection that has some toy soldiers, Sideshow toys, 21st Century/Ultimate Soldier 12" figures and some Marx 12" figures. Next week I will be picking up a huge World War II collection of all sorts of stuff.
We just picked up some Glossy W.Britains Crimean War figures. LINK: Britains
The above picture are new prototypes of some Carthaginians riding what are now distinct small African elephants. These are made by John Jenkins Designs. They were small enough that Howdas were not used. One of the places they most likely appeared was the Battle of Zama. I expect to see these in a few months.
Please see below for the latest product info and store news.
SHOWS/EVENTS
A Song of Ice and Fire Tournament - August 19th - 3 Games
Annual Games Day Saturday August 26th!
We will be hosting our annual Games day. We will have 3 Gaming Sessions.
We are looking for Game Masters and players!
Hobby Bunker Annual Historical Games Day.
We are holding our annual event again. It will be one day this year.
Location? Here at 103 Albion Street in the Game Loft.
In the past this has mostly been Historical Miniature games but we had some RPG's, Sci-fi and other table top games.
We will do TWO Sessions on Saturday (10AM, 2PM)
____________________________________________________
So far our Gamesday on August 26th is starting to take shape.
Our buddy Charlie will be running
10AM Team Yankee
2PM Flames of War
Rich Piccini will be running a 7 Years War 28mm game
Russian vs. Prussians
10AM and 2PM
Dave Valentine will be running his Devil in San Miguel with a Historical twist (American West)!
10AM and hopefully 2PM
Dave Soucy -- TBA if he can make it.
If we need more games we will try a Bolt Action learning game, Star Wars Shatterpoint, or Crisis Protocol.
Mark Morin will be running his "Battle for Toto" Wars in Ozz Game.
10AM and 2PM
We will have a minimal fee to play, $5.00
matt@hobbybunker.com or 781 321-8855 with questions or to run a game.
Let me know if you want to run a game ASAP.

Virginia Toy Soldier Show in September - We are unable to attend this one.
Chicagoland Toy Soldier Show
Sunday September 24, 2023 10AM-3PM
Plus room trading the days leading up to the show!
Chicago Marriott Schaumburg
50 N Martingale Road, Schaumburg, Illinois, USA, 60173
New show, New location run by us!
Hotel room link: Schaumburg Marriott
Dealer info: Chicagoland dealer contract
Our Store location.....
103 Albion Street Wakefield, MA 01880
Store Hours:
Monday/Tuesday/Wednesday 12-6PM, Thur. 12-8PM, Friday 10AM-7PM, Saturday 10-6PM and Sunday 12-5PM. Other times by appointment. Mail order will operate as normal. If these times do not work call 781 321-8855 to schedule an appointment.
You will find updates on www.hobbybunker.com
or questions at matt@hobbybunker.com
W.Britains has just announced about a dozen more great figures!
Here is some of them below. They will be here to ship next week. They have just announced even more the other day including some new trees.
LINK: NEW!
The below just arrived........Lewis and Clark.
Item Number: 10131

Second Lieutenant William Clark, 1803

LINK: Lewis & Clark

Item Number: 10130

Captain Meriwether Lewis, 1803

LINK: Lewis & Clark
New upcoming Thomas Gunn releases!
Upate: These are due to arrive here by August 21st.
Link: GUNN
Expeditionary Force

New 60mm Arabs coming the end of the month.

We just received an restock on Monday.
| | | |
| --- | --- | --- |
| New Shatterpoint Expansions just arrived along with other new games. | | Restocks of Bolt Action just arrived. We also should have an order in from Northstar next week. |
New
King and Country
August Releases
August releases include..more figures for the "Death On The Nile" series, Battle of the Bulge Germans, "Chow time" the first of 2 Winter GI sets, Mussolini, Vietnam crates and finally.... Dracula!
Update: The "Death on the Nile" figures have arrived along with Dracula and the Winter Germans.
LINK: Kingandcountry
AUGUST Releases

Here are your John Jenkins Designs September Releases!
Item Number: WIN74-06

Standard Bearer with Regimental Flag, The 74th (Highland) Regiment of Foot, Wellington in India, The Battle of Assaye, 1803

Item Number: VIK-46

Viking Shield Maiden Leaning, Nocking Arrow, Viking Shield Maidens, The Vikings, The Age of Arthur
---