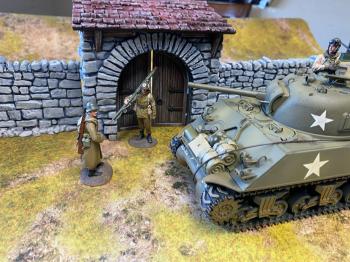 August 11th News!
August 11, 2023
Hobby Bunker Covert Intelligence
Welcome to August!
I just wanted to check in a let you know what is happening here at the Bunker!
The FANEXPO BOSTON has came and went. What a show! Lots of work and lots of fun. Now it is time to get the "A Song of Ice and Fire Tourney" and Gamesday going! I also have spent lots of time gearing up to run the Chicagoland Toy Soldier Show. The hotel is almost out of rooms and the dealer tables are almost sold out!
The photo above is our 3D prints shown with the W.Britains Sherman tank and figures. I painted the gate and walls. We are starting to get some production and we will be able to sell soon.
Model kits. We got the shop loaded again with all the collections we have just picked up and sorted. We got a cool new Revell '71 Mustang and a 2021 Ford Bronco kit. Nice to see some new car models. We also put up a bunch of vintage Aurora kits on our ebay page. Seller = mobbunker.
We have just completed full inventories of King and Country and Thomas Gunn. What does this mean? We have added lost of things that were previously sold out and now are back up on the site. We marked lots of items as "last one." Meaning last one in our inventory. We also yanked off discontinued items that we now do not have. The T. Gunn is 100% updated and the K&C is about 50% done as far as updating the website. Surprisingly some of the newly listed stuff has been selling within 24 hours of listing...take a browse! We will be tackling the John Jenkins next.
We just picked up some Glossy W.Britains Crimean War figures. LINK: Britains
Please see below for the latest product info and store news.
SHOWS/EVENTS
Battletech Game Demo August 12th 3PM-6PM
A Song of Ice and Fire Tournament - August 19th - 3 Games
Annual Games Day Saturday August 26th!
We will be hosting our annual Games day. We will have 3 Gaming Sessions.
We are looking for Game Masters and players!
Hobby Bunker Annual Historical Games Day.
We are holding our annual event again. It will be one day this year.
Location? Here at 103 Albion Street in the Game Loft.
In the past this has mostly been Historical Miniature games but we had some RPG's, Sci-fi and other table top games.
We will do 3 Sessions on Saturday (10AM, 2PM and 6PM)
With several games each session.
We will have a minimal fee to play, $5.00
matt@hobbybunker.com or 781 321-8855 with questions or to run a game.
Let me know if you want to run a game ASAP.

Virginia Toy Soldier Show in September - We are unable to attend this one.
Chicagoland Toy Soldier Show
Sunday September 24, 2023 10AM-3PM
Plus room trading the days leading up to the show!
Chicago Marriott Schaumburg
50 N Martingale Road, Schaumburg, Illinois, USA, 60173
New show, New location run by us!
Hotel room link: Schaumburg Marriott
Dealer info: Chicagoland dealer contract
Our Store location.....
103 Albion Street Wakefield, MA 01880
Store Hours:
Monday/Tuesday/Wednesday 12-6PM, Thur. 12-8PM, Friday 10AM-7PM, Saturday 10-6PM and Sunday 12-5PM. Other times by appointment. Mail order will operate as normal. If these times do not work call 781 321-8855 to schedule an appointment.
You will find updates on www.hobbybunker.com
or questions at matt@hobbybunker.com
W.Britains has just announced about a dozen more great figures!
Here is some of them below. They will be here to ship next week. They have just announced even more the other day including some new trees.
LINK: NEW!
New upcoming Thomas Gunn releases!
Link: GUNN
Expeditionary Force

New 60mm Arabs coming the end of the month.

We just received an restock on Monday.
We just got a nice restock of Gundam kits in. We are also all restocked and sorted out after hitting FanExpo last weekend!

Come and grab a Gundam!

We also have sprue cutters, panel liner and markers!
Here is a shot of our busy booth at FANEXPOBOSTON last week!

Saturday the place was packed. It was a grueling long con...this old man is tired!

Here is a shot of FANEXPOBOSTON last week!

Tons people! About 55,000 according to the web.
New
King and Country
just announced
August releases include..more figures for the "Death On The Nile" series, Battle of the Bulge Germans, "Chow time" the first of 2 Winter GI sets, Mussolini, Vietnam crates and finally.... Dracula!
The "Death on the Nile" figures have arrived.
LINK: Kingandcountry
AUGUST Releases

Here are your John Jenkins Designs September Releases!
Item Number: WIN74-06

Standard Bearer with Regimental Flag, The 74th (Highland) Regiment of Foot, Wellington in India, The Battle of Assaye, 1803

Item Number: VIK-46

Viking Shield Maiden Leaning, Nocking Arrow, Viking Shield Maidens, The Vikings, The Age of Arthur
---