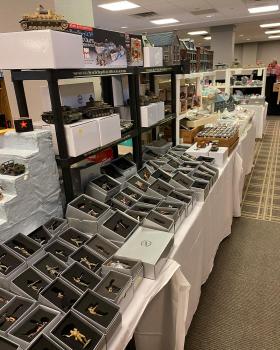 Late September News!
September 29, 2022
Hobby Bunker Covert Intelligence
Hello all. We are back from Chicago and we are sorting things out. Above is part of our massive display we had on Sunday. Overall the show was a success. Things improved after last year and we all had a blast. It is always great to sit with customers, collectors and manufacturers from around the world. People came from Australia, New Zealand, Canada, England, France and Mexico that I know of. Of course we had a 1050 mile drive too. Anyways below is a quick overview of some new stuff a I will do a follow shortly with more information.
We have been talking with some new sources and we hop to bring in some new brands and paint lines in the shop. We just received a huge shipment from Battlefoam so we have some great bags in stock for your miniatures. See some it below!
Thursday Gaming....stop by and join the big group of Magic Players. We also usually have some table top games going. We are expecting several people for A Song of Ice and Fire tonight and lately we have had some Crisis Protocal action.
We expect Dave Valentine to come down November 12 to run his game "Devil's in the Wilderness." We may just go ahead and turn it into another Gamesday.
Please see below for the latest product info and store news.
SHOWS/EVENTS
NETSS Toy Soldier, Toy, Model Kit, Military Book Show and Sale
Sunday October 9th, 2022
Come join us Sunday the 9th of October for the North East Toy Soldier Society's Toy Soldier Show, at Crowne Plaza, 15 Middlesex Canal Park, Woburn, Massachusetts, USA.
9:00AM to 3PM.
The Long Island Miniature Collectors Show. November 18th and 19th.
Freeport Rec Center. Freeport,NY.
Friday 7-9PM and Sunday 9AM-4PM.
The West Coast Toy Soldier Show!
Sunday Feb. 26th, 2023 9AM-3PM
The Delta Hotel by Marriott 12021 Harbor Blvd. Anaheim Garden Grove, CA 92840
Room trading on Feb 25, 26 (maybe the 24th)
Our Store location.....
103 Albion Street Wakefield, MA 01880
Store Hours:
Monday/Tuesday/Wednesday 12-6PM, Thur. 12-8PM, Friday 10AM-7PM, Saturday 10-6PM and Sunday 12-5PM. Other times by appointment. Mail order will operate as normal. If these times do not work call 781 321-8855 to schedule an appointment.
You will find updates on www.hobbybunker.com matt@hobbybunker.com
| | | |
| --- | --- | --- |
| The Chicago Show is a wrap. Another week flew by and we are back in Wakefield sorting it all out. Here is a picture of the crowd lining up before the show on Sunday. We had a great trip and the room trading was fun! | | Here is a shot of our booth on Sunday as the crowd was starting to pour in. My crew and I had our usual "wrap it up"dinner and we said our fairwells. See you next year! |
THOMAS GUNN MINIATURES

1/30 Scale

We just received a huge announement from Thomas Gunn in the UK.

They created a scene reminiscent of Ancient Egypt with all its decadence and glory but of course it needed to be different from what has come before from other manufacturers. This mini diorama of palace life will be expanded in the future but for now we have five great looking figures that definitely tell a story. This first release features three of the Pharaoh's daughters preparing for the day ahead, overseen by a palace guard and also a potential future threat to their safety, in the form of the Pharaoh's mistress.

Click Here to order LINK: TGUNN EGYPT

YTHOMAS GUNN MINIATURES

New German Krupp trucks with riders and other options. Four types available. There is also a new German Winter Patrol and more. See below. The Hetzer is currently available.

We are getting a restock of the Carthaginian War Elephant, some new slaves for the market, an Indo-China Military Police scene, an "old" Roman. View all the releases below.

No need to pre-order they will be here shortly so go ahead and order.
King and Country September releases.

Most of the releases include they new Vietnam Mutts have been delayed. We should have them around October 1st.
The Collectors Showcase

has announced a limited re-release of the 3 Huey Helicopters.

They are now in stock. Click below.
John Jenkins Designs New October releases.

The October releases are now up to order! Our September releases have been delayed. Click the link to order and see all the new releases.
New apparel arrived. The above design our staff will wear but we will also have extras available.

We will also be taking orders for hoodies.

Just in from Warlord Games the new North Africa Campaign set in 28mm.
New Conte Collectibles Roman Infantry set 2 now in stock! Each bag comes with 9 figures and multiple extra parts. If you get 2 sets you can make 17 unique poses.

Available in Red, Gold and Silver.

We also have set 1 available in the same 3 colors.

BUY here: Romans

New Stone House from Formtech. We have several in stock now.

BUY here: StoneHouse
---