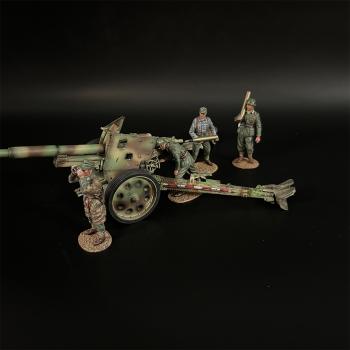 Late August News!
August 30, 2023
Hobby Bunker Covert Intelligence
Welcome to August!
I just wanted to check in a let you know what is happening here at the Bunker!
I am up to my elbows in collections at the moment. I will be posting a pile of King and Country, W.Britains, Thomas Gunn and Forces of Valor in the next 24 hours. I will also be bringing a bunch of this collection to Chicagoland. I have a lot of loose 1/32 scale vehicles, terrain, Build-A-Rama, JG Miniatures and random stuff that will be going to the Chicagoland show.
We just added a W.Britains Retired American Revolution collection to the website. We will also be adding some WW2 and terrian here too.
LINK: RETIRED
We have been carrying the hand made terrain made by John Gittens (JG Miniatures) for over 20 years. Sadly John Is retiring at the first of the year. We can take orders for a couple more months. For the most part we will be selling of just the existing stock. We can take orders for bit but you must buy - we are not taking unpaid pre-orders.
LINK: JG
I just sorted out a collection of model kits. With it was lots of accessories and decals. They are now in the shop and ready to sell. We also have dozens of kits that are loaded with extra decals and aftermarket items. We have marked the kits so you know what you get.
Above is a picture from last years Chicago Toy Soldier show.
Please see below for the latest product info and store news.
SHOWS/EVENTS
Annual Games Day Saturday August 26th!
We had a good turnout Saturday. 30 people rolled dice on Saturday. We had four games at 10AM and four at 2PM. Thanks to all that supported the day.
Alternative parking
26 Albion St - rear This is big lot - 'the Daily Item"
And
21 Albion St, this is a lot behind Boardwalk Real Estate and is a vacant bank lot
Magic the Gathering Prerelease
September 7th 6PM
Bolt Action Action - September 9th
10AM - D-Day Plus 1 or 2!
Shatterpoint Star Wars Demos -
Saturdays - September 9th, 16th and 23rd at 11AM
Battletech - Saturday September 16th and 30th at 3PM
Virginia Toy Soldier Show in September 9.9.23-
We are unable to attend this one.
Chicagoland Toy Soldier Show
Sunday September 24, 2023 10AM-3PM
Plus room trading the days leading up to the show!
Chicago Marriott Schaumburg
50 N Martingale Road, Schaumburg, Illinois, USA, 60173
New show, New location run by us!
Hotel room link: Schaumburg Marriott at present the hotel is booked!
Dealer info: Chicagoland dealer contract - We still have some tables available
NETSS WOBURN TOY SOLDIER SHOW
at present I do not have a show scheduled. The hotel has really jacked up their price and that location is no longer viable. I will seek out a new more affordable show or combine it with another.
October 15th - NEW Jersey Toy Soldier Show and Sale
Wayne PAL Wayne, NJ 9AM-3PM
Our Store location.....
103 Albion Street Wakefield, MA 01880
Store Hours:
Monday/Tuesday/Wednesday 12-6PM, Thur. 12-8PM, Friday 10AM-7PM, Saturday 10-6PM and Sunday 12-5PM. Other times by appointment. Mail order will operate as normal. If these times do not work call 781 321-8855 to schedule an appointment.
Alternative parking
26 Albion St - rear This is big lot - 'the Daily Item"
And
21 Albion St, this is a lot behind Boardwalk Real Estate and is a vacant bank lot
You will find updates on www.hobbybunker.com
or questions at matt@hobbybunker.com
W.Britains has just just sent us a pile of new goodies! Some of them are shown below. Click the link to browse all the new figures.
LINK: NEW!
New War Park 1/30 Scale
AX019: Camoflauge Pak43 88mm Anti-tank Gun and 4 Man Summer Crew LINK: Pak43 88
AX026: Winter Sd.Kfz.234/2 Puma Armored Vehicle LINK: Puma
| | | |
| --- | --- | --- |
| Here is some of the action from Games day. The 7 Years War Russian vs Prussian Wargame. | | Our regular customer Charlie ( High school student) ran a flames of war game at Games Day. |
| | | |
| --- | --- | --- |
| New Shatterpoint and masters of the Universe expansions just arrived. | | Part of the massive Forces of Valor Collection we just received. |
New John Jenkins Releases

Here are your John Jenkins Designs September Releases!
Item Number: WIN74-06

Standard Bearer with Regimental Flag, The 74th (Highland) Regiment of Foot, Wellington in India, The Battle of Assaye, 1803

Item Number: VIK-46

Viking Shield Maiden Leaning, Nocking Arrow, Viking Shield Maidens, The Vikings, The Age of Arthur
3D Prints by Hobby Bunker

We finally have the gate house up on the website.

We will have more and some different scales this fall. We have new machines arriving soon so we can get some production going.
---