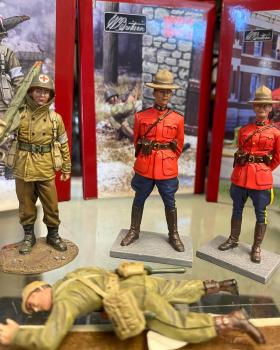 April News #5
April 28, 2023
Hobby Bunker Covert Intelligence
Hey folks,
April is coming to a close and we just wanted to send out one last round of updates.
This week we received the April releases from John Jenkins Designs, a BMC Toys restock, a pile of model kits, AK Interactive and so much more.
We got lots of new games earlier in the week a more today. I think we got like 27 cartons yesterday.
Yesterday I drove down to Quincy and picked up 700 model kits. Mostly 1/72 and 1/48 aircraft but also some ships including about 40 1/700 scale waterline kits. It will take some time to get these sorted and priced. It will probably be mid-May before they start hitting the shelves.
We will be running the Chicago Toy Soldier Show this September! It will now be called the "Chicagoland Toy Soldier Show!" We hope to see you there. We will be sending out more information soon. I added the hotel link below if you want to attend and book a room.
Above is the group shot of some W.Britains that just arrived. Featured above are the new male and female Canadian Mounties. LINK: WBRITAIN
Please see below for the latest product info and store news.
SHOWS/EVENTS
/////We are attending the following shows/////
MFCA SHOW and MART May 5th and 6th
Friday - 12:00 p.m. - 5:00 p.m.
Saturday - 9:00 a.m. - 3:00 p.m.
Radisson Hotel Philadelphia East
2400 Old Lincoln Highway, Trevose, PA 19053
Chicagoland Toy Soldier Show
Sunday September 24, 2023 10AM-3PM
Plus room trading the days leading up to the show!
Chicago Marriott Schaumburg
50 N Martingale Road, Schaumburg, Illinois, USA, 60173
New show, New location run by us!
Hotel room link: Schaumberg Marriott
Free RPG Day is June 24th, 2023!
Attendees will get to snag cool exclusives, maybe play new games, and be surrounded by like-minded gamers!
Our Store location.....
103 Albion Street Wakefield, MA 01880
Store Hours:
Monday/Tuesday/Wednesday 12-6PM, Thur. 12-8PM, Friday 10AM-7PM, Saturday 10-6PM and Sunday 12-5PM. Other times by appointment. Mail order will operate as normal. If these times do not work call 781 321-8855 to schedule an appointment.
You will find updates on www.hobbybunker.com matt@hobbybunker.com
Monument Hobbies restock just arrived. It is a great selling line in the shop....literally we are restocking it every 2 weeks! Click the picture below to see the line.
We finally got a restock of Vallejo Xpress paints back in. We also just got a restock of Monument paints in.

The Monument paints have blown my mind. So many people in the shop are buying them!

Lots of New Miniatures and games just walked in the door this week. Stop by and take a look.
W.Britains

They continue to turn out new figures at a rapid pace. There is about a dozen American Soldiers from World War Two coming out soon.

Link: New Soldiers!

W.Britains



This announcement brings us back to the Zulu War. There are new British Soldiers and Zulu warriors in this batch. Plus more from other periods.

Link: New Soldiers
Check out the new
John Jenkins Designs

releases like this new Iceni Chariot here: JJD
New from

Expeditionary Force!

54mm plastic figures.

These will be here towards the end of April.

Order Here...

Link: EXFORCE

54 CND 06-G Naval Gun with Royal Navy Gunners (War of 1812)

54 AMR 09 Pirates at New Orleans

54 AMR 09-G Naval Gun with Pirate Gunners
After a long hiatus the Collectors Showcase has just announced some great new releases...we expect them around the end of April.
They've created three different variants of the Vietnam era Cobra Helicopter. Each variant has just 50 limited edition sets available. Check out the add on set of the Mule with driver and ammo and the re-loading crew! Sets are limited please order promptly to secure your inventory.
The Clint Eastwood Wild West statues have been by far the most popular 1/6 scale statues they've produced. This brand new Outlaw Josey Wales statue is by far the finest of all.
The Korean War is not a subject that is made very often. TCS has delivered with 7 new and animated fighting GI's!
LINK: TCS
_King and Country_
1/30 scale
The new April items have been announced. King Charles has arrived and Queen Elizabeth with here Corgis is on the way.
The 6 new Germans are in stock. A brand-new sculpt of a seated Pharaoh sitting atop his Sedan Chair which is being carried by a team of 4 Nubian slaves and a second version with Cleopatra. These are now in stock.
LINK: K&C
New Forces of Valor by Waltersons....

1/32 Scale

3 all new tanks...plus a restock of a few others.

Sd.Kfz.181 PzKpfw VI Tiger Ausf E, #100, Schwere Panzerabietlung 502, Eastern Front, February 1945.

U.S. Medium Tank Sherman M4A3E2 (75) Jumbo "Cobra King", "First in Bastogne"

U.S. Medium Tank Sherman M4 (105) HVSS with Deep Wading Gear, U.S. Army, 711th Tank Battalion, Okinawa, 1945

LINK: Forces of Valor
The Toy Soldier Show in GETTYSBURG was great last weekend. They had a nice crowd. Thanks for coming out and supporting the show.

It was a long ride home. I pulled in my driveway around midnight.
---