NETSS Toy Soldier, Toy, Model Kit, Military Book Show and Sale
April 16, 2023
Venue: Crowne Plaza, 15 Middlesex Canal Park, Woburn, Massachusetts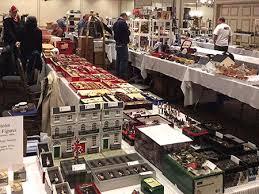 The North East Toy Soldier Society Presents our 63rd Show!
Sunday APRIL 16, 2023
NETSS Toy Soldier, Toy, Model Kit, Military Book Show and Sale
Come join us Sunday the 9th of October for the North East Toy Soldier Society's Toy Soldier Show, at Crowne Plaza, 15 Middlesex Canal Park, Woburn, Massachusetts, USA.
9:00AM to 3PM.
Come and visit New England's only Toy Soldier Show. This show we are bringing even more? Toys, Model Kits and Military Books! There will approx. 60 tables with dealers selling and showing from all over the North East. The Show will feature current production and antique soldiers from Ancient to Modern times. Both hand painted metal and plastic soldiers.
Come and see dozens of toy soldier dealers from all over the Northeast. This show features the Grand Ballroom FULL of toy soldiers and related items! There will be Antique and Contemporary Toy Soldiers of all Periods including the following: Civilian, Farm, Zoo, Hunt, Railroad Figures, Cowboys, Indians, Knights, Christmas Figures, Marching Bands, Military Miniatures, Plastic Figures, Playsets, Miniature Gardens, Books, Action figures, model kits, War Movies, Badges, Artillery ,Vehicles and more including famous makers such as W.Britains, Elastolin, Mignot, Marx, GI Joe, Osprey, King and Country, Dragon Models, Tamiya, John Jenkins Designs, Barrzso and others. Also other general and antique toys, dioramas, etc.
Admission is $8.00 or 2 for $15.00. Kids 15 an under are free!

FREE Wargaming demonstration.

Dealer tables are available. Contracts going out soon.
For further show information, don't hesitate to contact me, Show Chairman Matthew Murphy at 781-321-8855 or email me at
matt@hobbybunker.com
Check out our events webpage at
www.hobbybunker.com/events
to see all the upcoming club meetings, toy soldier & hobby shows, and wargaming events!
Thank you in advance and see you at the show,
Matt Murphy Show Promoter
Directions:
Directions: From 1-90 head North to Exit 35 Rt. 38, go around the rotary to the third turn. Turn right at the first set of lights onto Middlesex Canal Park Road. The hotel is on the right. From 93 take 1-95 South to exit 35. Check the Hotel's website for info on a Complimentary Shuttle service available from Anderson Regional Station and Wilmington Station
Check the NETSS FACEBOOK Page. Please like it and add club photos or photos if you have any. Post what you are selling.
This is a great place to post pictures of items you purchased at the show or meet up with fellow collectors.
https://www.facebook.com/toysoldierclub