Warrior Gaming Con 2021
August 27, 2021 - August 29, 2021
Venue: Hobby Bunker, Wakefield, Mass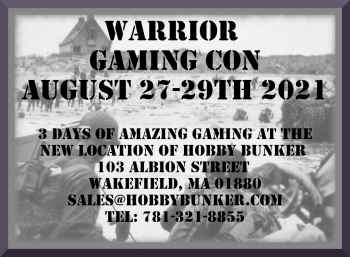 Warrior Game Con
Friday, August 27th: 6PM
Saturday, August 28th: 10AM, 2PM, 6PM
Sunday, August 29th: 10AM
Warrior Game Con.
It is a Hobby Bunker Gamesday double sized!
With the lack of conventions we are planning to run a 3 day event.
Location? Here at 103 Albion St and we will also have access to Kidcasso next door (109 Albion) that has room for several more tables.
In the past this has mostly been historicals but we have requests for RPG's, Sci-fi and other games.
We will do 1 Game on Friday Night. 6PM
3 Sessions on Saturday (10AM, 2PM and 6PM and another on Sunday morning.
Of course we can add or subtract here based on interest. We have Tim Colonna and Dave Valentine on board to help out and run some games. We also have other games planned.
We will have a minimal fee to play, maybe $5.00 (have to rent some tables, chairs, etc).
matt@hobbybunker.com or 781 321-8855 with questions or to run a game.
I recommend the Courtyard Marriott in Woburn 2 miles away or for a very no frills stay the Lakeside Inn 1 mile away.
https://www.facebook.com/events/334579278114613
External Link: https://www.facebook.com/events/334579278114613