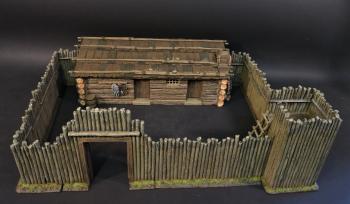 January News #3
January 19, 2023
Hobby Bunker Covert Intelligence
Greetings,
It hit 51 degrees here today just a couple days past our first snow storm. Usually I am putting snow filled pictures up above but it does not feel like Winter yet. I have added a couple more local store events below.
We are getting the usual restocks of hobby supplies and models in this week. We have been selling lots of models lately. That is nice to see as a hobby shop. Keep on building!
We also have lots of games and a restock of Reaper figures coming in. The Monument Hobbies paints showed up today (restocks and new colors). In the mail we received 3 new sets of Chintoys from Europe today (plastic 1/32 scale).
Above is the new US Artillery piece and crew due in this month from W.Britains.
Please see below for the latest product info and store news.
SHOWS/EVENTS
Military Collectors of New England Club
will be held this Saturday, January 21st, at 1:30 pm at The Hobby Bunker, 103 Albion St., Wakefield - Modellers, Toy Soldier collectors and more! Usually 4-6 people
The East Coast Figure Artists - Saturday February at the Hobby Bunker-
The meeting will run from 2:00 to 5:00pm.
Artists, sculptors, model builders and miniaturists of every subject are encouraged to bring: works in progress, planned projects, suggestions for tools and techniques, books and reference materials that may be helpful to others. Show your latest unbuilt kit or internet finds. Beginner through advanced level enthusiasts are welcome to be part of our friendly group. Usually a dozen or more people.
Virginia Toy Soldier Show and Sale
Saturday Feb. 18th
VFD 7128 Columbia Pike
Annandale, VA 9AM-3PM
The West Coast Toy Soldier Show!
Sunday Feb. 26th, 2023 9AM-3PM
The Delta Hotel by Marriott 12021 Harbor Blvd. Anaheim Garden Grove, CA 92840
Room trading on Feb 25, 26 (maybe the 24th)
Hotel Link:
Th rates went up - don't wait to book!
New Jersey Toy Soldier Show and Sale
Sunday, March 19th, 2023 9AM-3PM
Wayne P.A.L. One P.A.L. Drive Wayne, NJ
Our Store location.....
103 Albion Street Wakefield, MA 01880
Store Hours:
Monday/Tuesday/Wednesday 12-6PM, Thur. 12-8PM, Friday 10AM-7PM, Saturday 10-6PM and Sunday 12-5PM. Other times by appointment. Mail order will operate as normal. If these times do not work call 781 321-8855 to schedule an appointment.
You will find updates on www.hobbybunker.com matt@hobbybunker.com
CHINTOYS

We just got word that a few new sets are on the way from Eastern Europe!

UPDATE:

These Have just arrived!

Gangsters and Police! Very cool.

LINK: CHINTOY

Chintoy just did their first set of Saracens. These will go great with all the crusaders they have done in the past.

LINK to the range....
New Monument Hobbies paint colors just arrived!

New Expeditionary Force!

All new Royal Navy Landing Party. Perfect for War of 1812 and Napoleonics. Saracens and a restock just arrived!



LINK: EXFORCE
VICTRIX LTD just arrived.

Including new 28mm Late Roman Archers and 12mm Russian Infantry.

LINK: VICTRIX

New

French Foreign Legion just arrived from

Team Miniatures!

They are pictured with our 3D printed plastic walls.

LINK: FFL
W.Britains!

All new sets arriving soon!

Don't miss out on the new US Artillery sets and accessories!

U.S. 3-Inch Anti-tank Gun and Crew, March, 1944-45

Buy Here: WBRITAIN

The Plastic Deetail artillery should be in the end of this month!

Order here: DEETAIL
John Jenkins Designs

German Panzerkampfwagen "Panther" Ausf. G (Sd.Kfz.171), M.N.H. Factory "Striped" Camo Fallschirm-Panzer-Division 1 "Hermann Goring", East Prussia, January 1945, German Armour, WWII

We are taking pre-orders now until January 31, 2023. After this there will be no more orders taken.

LINK: GA-41

The John Jenkins Designs Panther Ausf G comes with the following features:

- all turret hatches open, including the rear turret escape hatch

- fully detailed turret and hull interior

- opening engine hatch with detailed engine

- removable schürzen side skirts

- commander's cupola mounted anti-aircraft machine gun

Although the JJD M.N.H. Panther is meant to represent a tank from Fallschirm-Panzer-Division 1 "Hermann Göring", due to the late stage of the war when panzers often went into combat without unit markings, it will also work for numerous regular Heer and Waffen SS Panzer divisions.
John Jenkins Designs

New for February! Order now...many of John's releases are in short supply and our orders have been allocated and we are getting shorted in some cases.

ORDER: JJD
Moving Robe Woman, The Battle Where the Girl Saved Her Brother, 17th June 1876, The Black Hill Wars 1876-1877

Plus new Ancient Perisians with spear, Saxon Warriors, Trojans, Japanese Warriors, Amazons and an amazing Stockade fort (shown below).

Lieutenant Colonel Banastre Tarleton, Tarleton's Raiders, The British Legion, The Battle of Cowpens, January 17th, 1781, The American War of Independence, 1775–1783.
King and Country
January releases are ready to order!
New Canadian Mounties, a new Tutankhamun's Sarcophagus, Aussies in WW2 and Vietnam and USMC's in Korea.
LINK: K&C
---