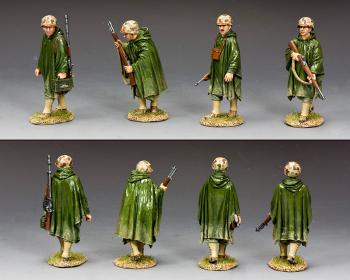 January News #2
January 12, 2023
Hobby Bunker Covert Intelligence
Greetings,
It is raining again here. I fell like we just can't get into Winter around here. The second floor is filling up with Magic players at the moment. I think we had 25 players last week.
We just got a pile more models, more Gundams, more tools and supplies. We got a full restock of AK Interactive terrain (mud, sand, grass, etc). Stop by we are pretty stocked up at the moment for all your painting and building needs. We got about 15 cartons full of new games and restocks this week. We are keeping the shop packed with great stuff!
Above is the new Korean War Marines by King and Country. It is based on the Korean War Veterans Memorial in Washington D.C. See below for more information.
Please see below for the latest product info and store news.
SHOWS/EVENTS
Virginia Toy Soldier Show and Sale
Saturday Feb. 18th
Annandale, VA 9AM-3PM
The West Coast Toy Soldier Show!
Sunday Feb. 26th, 2023 9AM-3PM
The Delta Hotel by Marriott 12021 Harbor Blvd. Anaheim Garden Grove, CA 92840
Room trading on Feb 25, 26 (maybe the 24th)
Hotel Link:
Th rates went up - don't wait to book!
Our Store location.....
103 Albion Street Wakefield, MA 01880
Store Hours:
Monday/Tuesday/Wednesday 12-6PM, Thur. 12-8PM, Friday 10AM-7PM, Saturday 10-6PM and Sunday 12-5PM. Other times by appointment. Mail order will operate as normal. If these times do not work call 781 321-8855 to schedule an appointment.
You will find updates on www.hobbybunker.com matt@hobbybunker.com
CHINTOYS

We just got word that a few new sets are on the way from Eastern Europe! We are not sure when they will arrive. Could be days, could be weeks.

Gangsters and Police! Very cool.

LINK: NEW CHINTOY

Chintoy just did their first set of Saracens. These will go great with all the crusaders they have done in the past.

LINK to the range....
| | | |
| --- | --- | --- |
| Model kit restock just in! | | New kits from Rubiocon in 1/56 scale just in! |
New Expeditionary Force!

Arab/Saracen Spearmen

1/32 Scale Warriors

Now available to order...Arriving early to mid-January.



LINK: EXFORCE

New Expeditionary Force!

All new Royal Navy Landing Party. Perfect for War of 1812 and Napoleonics.



Arriving early to mid-January.

LINK: EXFORCE
W.Britains!

All new sets arriving soon!

Don't miss out on the new US Artillery sets and accessories!

U.S. 3-Inch Anti-tank Gun and Crew, March, 1944-45

Buy Here: WBRITAIN
THOMAS GUNN MINIATURES

JUST ARRIVED!

Grab the new Indo-China FFL and other goodies now!

LINK: GUNN

Here is Rapunzel! One of the many "Thomas Gunn" female figures that has been made. I think there will be lots more to come!

Also several new stunning Egyptian dancers just in.

LINK: GUNN
John Jenkins Designs

German Panzerkampfwagen "Panther" Ausf. G (Sd.Kfz.171), M.N.H. Factory "Striped" Camo Fallschirm-Panzer-Division 1 "Hermann Goring", East Prussia, January 1945, German Armour, WWII

We are taking pre-orders now until January 31, 2023. After this there will be no more orders taken.

LINK: GA-41

The John Jenkins Designs Panther Ausf G comes with the following features:

- all turret hatches open, including the rear turret escape hatch

- fully detailed turret and hull interior

- opening engine hatch with detailed engine

- removable schürzen side skirts

- commander's cupola mounted anti-aircraft machine gun

Although the JJD M.N.H. Panther is meant to represent a tank from Fallschirm-Panzer-Division 1 "Hermann Göring", due to the late stage of the war when panzers often went into combat without unit markings, it will also work for numerous regular Heer and Waffen SS Panzer divisions.
"Team" has notified us that the new Mexican Adventure series is now available.

LINK: French Foreign Legion

Get your orders in now for these and any Team figures and we will ship mid-January!

Battle of Camarón - 1863

The conduct of the Legion, who where overwhelmingly outnumbered, refused to surrender, killing and injuring hundreds of enemy troops before finally succumbing, led to a certain mystique, and the battle of Camarón became synonymous with bravery and a fight-to-the-death attitude. Viva la France!
King and Country
January releases are ready to order!
New Canadian Mounties, a new Tutankhamun's Sarcophagus, Aussies in WW2 and Vietnam and USMC's in Korea.
LINK: K&C
---