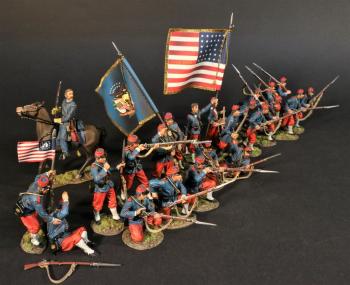 Early May News
May 5, 2022

Hobby Bunker Covert Intelligence
Wow, I can't believe it is May already! This Saturday we have another Bolt Action game day and a Paint and take (more info below). Our big sea freight shipment of Paragon Scenics finally arrived. We have shipped out most of the pre-orders and have been getting the 120 cartons squared away. It arrived late last Friday afternoon so Joe and I did not get down to Gettysburg until 11PM. On Saturday we walked and toured most of all the battlefield. It was a beautiful day and a great experience. We hit a few shops and breweries as well. The show was well attended and we had a great show. Thanks to all that made the trip.
Pictured above is the complete 14th Brooklyn Infantry from John Jenkins Designs. John staggers his releases with one or 2 a month so the series takes about a year before everything is made. This makes it affordable but also can be harder to collect if something sells out. If you are interested in a complete series we can reserve one of each for you so you do not miss out. You can pre-order online or call/email. This brand is 1/30 scale.
Speaking of pre-orders. If you click "pre-order" then we will automatically reserve the item for you. Sometimes the item will be marked as sold out or "out of stock." This just means all of our order has been pre-sold and you will get one if you "pre-ordered." Also if you do not plan on ordering do not pre-order. We waste a lot of time following up on pre-orders for some that don't respond, cancel or already purchased. If you pre-order we will notify you when it comes in. If something will be out the same month or within days just actually place the order rather than pre-order this will save us both time and we can get it too you quicker.
Please see below for the latest product info and store news.
Events:
May 7th Bolt Action Tournament
FREE RPG DAY! Saturday, June 25th all day 10A-6PM. We'll have a ton of freebies to give away. Pick up something for a favorite Role-Playing Game, or grab an intro to a new one!
May 7th We are having a "Paint and take" event. The Miniature is "Boneclaw (see below pic) and it will cost $20.00. The kit comes with paint and a brush. We will also have an instructor on hand and other supplies. Starts at 10AM - we also have kits to go.
SHOW SCHEDULE
May 12-15th Huzzah - Portland, ME. My Helper Joe Denoncour will be covering the show for us. He will head up on Friday.
May 13-14th MFCA show in Trevose, PA - We will be attending.
June 4th Northern Virginia Toy Soldier Show - Saturday 9AM-3PM
Annandale, VA - I will be attending.
Our Store location.....
103 Albion Street Wakefield, MA 01880
Store Hours:
Monday/Tuesday/Wednesday 12-6PM, Thur. 12-8PM, Friday 10AM-7PM, Saturday 10-6PM and Sunday 12-5PM. Other times by appointment. Mail order will operate as normal. If these times do not work call 781 321-8855 to schedule an appointment.
| | | | | | |
| --- | --- | --- | --- | --- | --- |
| | Here is a view from Little Round Top in Gettysburg. That was quit a task for the Confederates to make it up that far. Luckily The Irish boys from NY beat them off the hill as did others. | | | Around here is where Picketts charge started. Way off on the top left of the picture is "The Angle." | |
We have scheduled our next Bolt Action Tournament!

Saturday May 7th, 2022!

3 Rounds starting at 10AM!

A nice close up from our tourney a couple of weeks ago.
New Paragon Figures are here!

The 2 US Cavalry sets shown above will be available in Powder Blue, Medium Blue, Metallic Blue and Gray

After manufacturing delays, making new header card delays, holidays, lockdowns, Congestion at the docks and in the ports, trucking delays, etc. The shipment finally is due to be delivered Tuesday.
We have restocks of US Cavalry Set 1 and 2 and in new colors. We also have Apache Set 1 and the Sioux Indians coming in new colors.

Above is the Sioux in new Red Brown Color.

Breaking down the shipment last Friday.
Expeditionary Force.

We have had a shipment sitting in China for over 3 weeks now. The lockdowns in China is preventing it from getting on a plane to us.
The new May releases from John Jenkins Designs were announced earlier this week. Above is a new Saxon Bannerman. Click on the link the view all that is shown here and more.

Achilles, The Greeks, The Trojan War, The Trojan War--single figure

John Jenkins Designs

Item Number: TWG-03
5th Virginia Regiment, Company A, Marion Rifles, Winchester, The Army of the Shenandoah, The First Battle of Manassas, 1861

Item Number: CS5V-091011N

Below is what the all the Breton poses will look like for the Battle of Hastings series.

The first poses for the new 39th New York Infantry Regiment, known as the "Garibaldi Guard" have been announced.

Item Number: 39GG-101112N
JOHN JENKINS

Future series announcement...

The Gempei War which took place between 1180 and 1185 was a national civil war between the Taira and Minamoto clans during the late Heian period of Japan. It resulted in the downfall of the Taira and the establishment of the Kamakura shogunate under Minamoto no Yoritomo, who appointed himself as Shogun in 1192, governing Japan as a military dictator from the eastern city of Kamakura.

The Gempei & Taira were fierce rivals, both were ancient families, descended from royalty.
The New May releases have been announced. This includes additional poses for French Dragoons, Valeria Messalina--a Roman Empress, more ACW 83rd Pennsylvania Regt, new WWII Germans and Mexican Senoritas!
We can accommodate a few cars for short term parking during the week for shoppers. Please come in the side door and check in.
We also can accommodate some cars for Thursday, Saturday and Sunday gamers.
| | |
| --- | --- |
| Here is a Warhammer 40K game from last Sunday. We had a few games of 40K being played yesterday. Right now some guys are playing Frostgrave. I plan on playing ASOIF tonight. | |
---